The value of tomosynthesis in breast diagnostics
The MVZ RNR Leverkusen Am Gesundheitspark (Germany), part of the RNR MVZ GmbH Association, is one of the most important breast diagnostics centres in the region, treating tens of thousands of patients annually. In line with this full capacity utilisation, the equipment at the practice is of the highest standard. Recently, tomosynthesis was installed, enabling the centre to offer patients the entire range of breast diagnostic systems.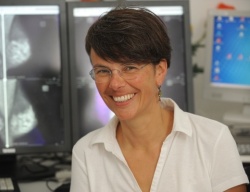 The range of diagnostic equipment at the Am Gesundheitspark mammography practice is used for preventive as well as curative purposes. Just a few months ago the previous mammography equipment was replaced by Hologic's Lorad Selenia Dimensions for conventional mammography and tomosynthesis. Since then, along with her team, diagnostic radiologist Dr Juliane Terpe, one of the heads of the Am Gesundheitspark mammography practice, has particularly benefited from the dual usability of the system, because the digital full field mammography equipment can be used for conventional, 2-D mammography as well as tomosynthesis.
'As a specialist practice and screening centre we carry out tens of thousands of examinations a year – with many of these turning out to be complicated cases. We do everything we can to give each woman her diagnosis and our recommendations as constructively and quickly as possible,' Dr Terpe said. Although tomosynthesis is not a standard part of the mammography screening programme the centre uses it daily. If, after a mammography and ultrasound scan, there is an ambiguous diagnosis, Dr Terpe and colleagues are entitled to carry out additional imaging using tomosynthesis within the context of breast diagnostics.
The reconstructed tomographic images produced via tomosynthesis have a thickness of 1mm and therefore guarantee increased diagnostic certainty by suppressing overlaying tissue structures and minimising the image detector noise. Thus breast tissue assessment can be improved.

Dr Terpe does not believe that tomosynthesis and MRI are competitive procedures for an additional breast diagnosis. 'Tomosynthesis is a radiodiagnostic procedure that cannot be compared to MRI. Breast diagnostics has always been a multimodal concept where different imaging procedures have given doctors complementary information. The order of diagnostic assessment remains the same: First mammography, then ultrasound. After these come tomosynthesis and finally MRI, to rule out further masses in the case of a known tumour, for example.'
The radiation dose of tomosynthesis is comparable to that generated by conventional mammography. However, its benefit is enormous. Due to the high spatial resolution it is much easier to detect microcalcifications and densifications. 'Some tumours simply present as very small, architectural changes during conventional mammography,' Dr Terpe explained. 'You can then see only two or three lines on the images which look wrong; the remaining area is covered by the surrounding tissue. This is why in the case of dense breast tissue is of particular advantage, if we can scroll through the individual layers of the breast with tomosynthesis. This also allows us to determine whether microcalcifications are grouped or spread. This means, whether it is a benign or malignant change of the glandular tissue, as in the case of mastopathia (benign, non-inflammatory change of the breast glands). Scrolling gives us in the best possible way to see whether, and how many, microcalcifications can be seen in each tomographic image. In addition, in the curative field this procedure also makes it easier to distinguish between scar tissue and a relapse.'

Dr Terpe can no longer imagine the practice without this innovative tomosynthesis equipment. 'We can now offer the complete range of modalities for breast diagnostics. Complicated cases can now be tackled much quicker and safer. We can show patients that they can expect the best possible quality from us, otherwise only found in a few university hospitals.'

* This equipment is distributed in
Germany via MMS Medicor Medical
Supplies GmbH
Juliane Terpe Details: http://www.medicor.de/