The MyLab 20Plus
Designed for multi-applications (e.g. general imaging, obstetrics/gynaecology, abdomen, small parts, musculoskeletal, urology, vascular) MyLab 20Plus, manufactured by Esaote Biomedica Deutschland GmbH, can be customised to suit individual needs in a shared ultrasound department or clinic.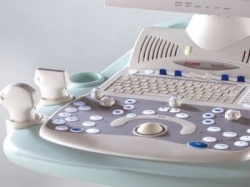 With 17" high-resolution TFT LCD colour monitor, multi-frequency broadband transducers, four active probe connectors for convex, linear, endocavity and pencil probes, other features include TEI - Tissue Enhancement Imaging, Tp-View for enlarged field of view, the Framingham Risk Score Calculator in Cardiovascular Disease (CVD), callipers for Nuchal Thickness (NT) measurements (early detection for Down syndrome risk factor), integrated HD, CD/DVD burner and personal USB memory drive for transferring clinical data, network storage with direct connection to external workstations.
The system is Windows and DICOM compatible and offers MyLab Desk software for image management.
Details: www.esaote.de
Esaote is at Medica
Hall 09. Stand A22

More on the subject:
More on companies: