On the move
Flexible and adaptable US systems and probes
Esaote specialises in designing and manufacturing diagnostic ultrasound systems and probes, shaping solutions to answer demanding clinical needs in any application, as the firm outlines, from abdomen to vascular, passing through musculoskeletal, internal medicine, cardiology, emergency and physiotherapy.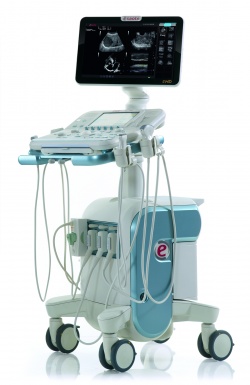 'Esaote's state-of-the-art technologies provide top image quality for confident diagnosis, from difficult-to-scan patients up to fully detailed superficial image resolution,' the firm points out. 'Our offer of transducers ranges from traditional phased, linear, convex, and endocavity to dedicated solutions for surgery and intervention.
'Esaote's probe family is now enhanced by the brand new High Frequency Hockey Stick probe IH 6-18 and the biopsy dedicated convex transducer SI2C41. 'Customisable buttons on the probe body enhance comfort and increase possibilities.'
Advanced haemodynamic evaluation tools, such as XFlow and HD CFM, tissue stiffness evaluation with ElaXto and easy to perform real-time Fusion Imaging with the system's Virtual Navigator are examples of advanced technologies tailored to customer requests, the manufacturer adds. 'Virtual biopsy and needle enhancement technology are valuable tools to facilitate needle insertions from simple biopsies up to percutaneous treatments.'
Ergonomics and innovative design are also leading influences on the final products.
'Workflow optimisation and automation tools are designed in collaborations with important clinical and technical reference centres and Universities. Interviews and long scanning sessions with lots of ultrasound users from radiographers to radiologists and physicians, from surgeons to paramedics, have helped us to have a clear view of the different environments and user needs our systems have to adapt.
'eTouch fully automated workflow, customisable protocols and "appleprobe" designed transducers let you fully focus on what matters the most – the patients. User interfaces with naturally understandable and intuitive commands give the comfort to easily operate the system in any scanning condition.'The ultrasound solutions are available in dimensions to fit individual needs, the firm underlines '… from handheld MyLabONE to portable MyLabGamma and MyLabAlpha; from compact cart-based MyLabSix and MyLabSeven, up to High End MyLabTwice.'
The firm's broad offer of diagnostic ultrasound scanners is as wide as the possible uses needed by today's clinical trends, the company adds.
Then there's Esaote's EVOlution, a continuous programme to update systems, bringing them the latest technological and clinical solutions to match future standards. Inviting visitors to its stand, the Esaote team promise: 'We'll be glad to talk with you about our solutions designed for your work, from everyday clinical routine to advanced research.'
Esaote is at Medica Hall 09/Stand A14
More on the subject:
More on companies: