The German Consortium for Translational Cancer Research (DKTK)
A powerful new entry to the oncology scene
A dynamic new consortium was launched in October during the recent Innovation in Oncology event organised by the German Cancer Research Centre (DKFZ) with Heidelberg University Hospital.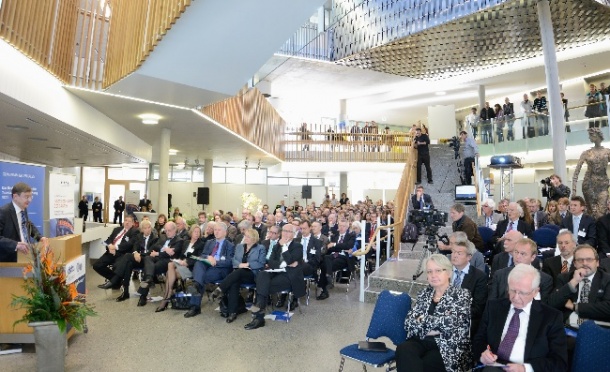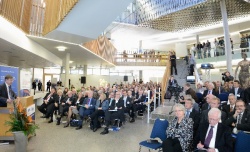 The aim of the new German Consortium for Translational Cancer Research (DKTK), in which the DKFZ is the core centre, is to augment nationwide cancer research by transferring to the consortium the collaboration between cancer researchers and physicians established at the National Centre for Tumour Diseases (NCT), explained Professor Otmar D Wiestler, the chief coordinator of DKTK and Chairman of the Management Board of DKFZ.
Commenting on the new consortium, Germany's Federal Minister of Education and Research Professor Annette Schavan pointed out that, by having the best researchers from 20 institutions cooperating on an interdisciplinary basis, the consortium opens up possibilities to develop new ideas and achieve real innovations in cancer treatments.
Nobel Prize winner Professor Harald zur Hausen, who outlined the long route from discovering that papillomaviruses cause cancer to having a vaccination against cervical cancer, emphasised the obligation of cancer researchers to continuously consider whether their results may be a starting point for new approaches in cancer prevention, diagnosis and treatment. More than 160 scientists and physicians with their working groups at DKTK's eight locations will be committed to this 'translational' idea.
In a panel discussion, DKTK scientists and oncologists also presented aspects of individual programmes, which include high precision radiation therapy. Technical innovations such as the unique gantry of the Heidelberg Ion-Beam Therapy Centre (HIT) contribute to this aim. Using the example of paediatric cancer, DKTK researchers explained the chances for improved cancer therapies emanating from sequencing individual tumour genomes. Efforts to develop targeted anti-cancer drugs will require a much higher number of clinical trials in the future, but each of these will include a smaller number of patients. The DKTK Clinical Communication platform will ensure that patients have the chance to participate in clinical trials best suited for them anywhere in Germany.
The partnership of the German Cancer Research Centre with seven university hospitals has evolved from a joint initiative by the German Ministry of Education and Research (BMBF), German Cancer Aid (Deutsche Krebshilfe) and the German Cancer Research Centre (Deutsches Krebsforschungszentrum, DKFZ). The consortium will help to translate current research results even more swiftly into patient care. A translational centre will be established at each of the partnering sites, as a joint project of DKFZ and the respective university hospital.
The Federal Ministry of Education and Research and participating states will provide funds of around €12 million for the consortium this year. The annual budget will be successively raised to reach about €28 million by 2014. Additionally, German Cancer Aid (Deutsche Krebshilfe) will, upon request and after evaluation, provide funding for defined research projects.
The general scientific concept of the German Consortium for Translational Cancer Research provides for seven translational research programmes: Signalling Pathways of Carcinogenesis, Molecular Diagnosis of Cancer, Tumour Immunology, Stem Cells and Cancer, Imaging and Radiation Therapy, Therapy Resistance, and Cancer Prevention and Early Detection. Several sites will participate in each programme.
Research platforms will also be available for all partnering sites. A clinical communication platform will ensure uniform diagnosis standards for all patients so that they may then be offered innovative treatment protocols in clinical trials. Various service units will facilitate outsourcing of routine laboratory work and conducting it according to uniform standards. Preclinical models will facilitate common access to animals that have been genetically modified to develop specific cancers. Substance development will focus on collaboration with the pharmaceutical industry.
Finally, the School of Oncology will provide education and training for life scientists and medical researchers in translational cancer research at the highest level.