The Gamma Knife goes to work in Paris
Bladeless and bloodless, the technique falls somewhere between radiotherapy and surgery

Report: Annick Chapoy
A major public hospital has become the first in Paris to be equipped with a Gamma Knife, the device that enables the surgeon to operate on the brain with no blade or blood involved.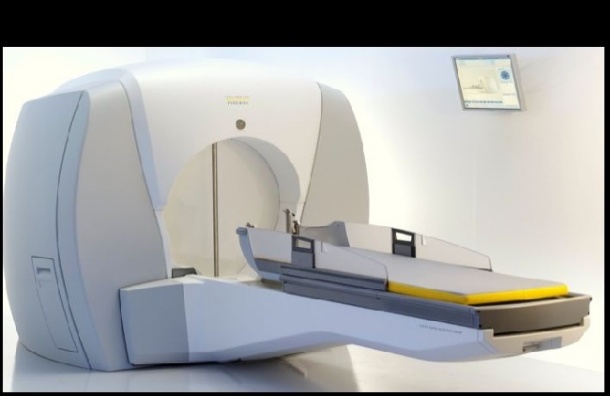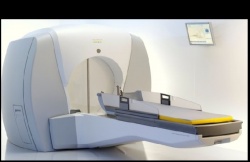 'Tumours are treated through a powerful gamma ray irradiation, a very efficient technique bringing no pain to the patient,' according to Charles Ambroise Valéry MD, neurosurgeon at the Pitié- Salpêtrière hospital and head of the gamma ray unit for the Région Ile de France (Paris and surrounding areas).
'We are talking about surgery, because a result similar to an actual surgical procedure is obtained by a onesession radiotherapy treatment,' he explains. All the rays focus on a very specific area and the great advantage of the technique is that it only targets the diseased brain tissue, while leaving surrounding tissues intact. Radiosurgery differs from conventional radiation therapy in several respects: with standard external beam radiation therapy techniques, tumours and much or all of the surrounding brain are treated to an equal amount of radiation. The radiation dose is given in small increments over several weeks to allow normal brain tissue to recover from its effect, while tumour tissue is less likely to recover. Ultimately, the brain can absorb only a maximal dose of radiation, beyond which no further treatment is advisable. There is increasing evidence that over long periods of time, high doses of radiation are harmful to a normally functioning brain.
However, Gamma Knife radiosurgery treats only the abnormal tissue, and that treatment occurs in a single session without significant radiation to adjacent brain areas. In the more than 20 years since the introduction of the GK there has been no evidence that radiosurgery has led to the development of other malignant tumours. The Paris Gamma Knife is the third to be installed in France, following Lille and Marseille. Invented in 1967 by neurosurgeon Lars Leskell, at the Karolinska Institute, Stockholm, it was developed by the Swedish public company Elekta AB. Also known as stereotactic surgery, the technique enables surgeons to operate on brain lesions often considered inoperable, thus bringing hope to patients with brain tumours, vascular malformations or functional disorders.
According to Philippe Cornu, head of neurosurgery at the Pitié Salpêtrière hospital, the Gamma Knife, acting like a sniper, can flush out an area of the brain difficult to target, in an extremely precise manner. The equipment is huge – a two-meter high conical machine housing 192 radioactive cobalt rays (obtained from natural cobalt 59). These hit their target during a single three hour period. The multiplication of the rays, which divides the radioactive charge of the very penetrating gamma rays, enables minimal exposure to surrounding tissues. 'There's no more need for incision of the brain and trepanation, yet we get equal or even superior efficiency. We also avoid the danger of infections or excessive bleeding, which can happen with surgery,' Dr Valéry emphasises, although, he adds: 'In an emergency treatment, nothing can replace surgery.' To avoid excessive toxicity only small tumours are treated with the Gamma Knife, and its effects can only be felt after a few weeks. The cost of the Gamma Knife €4.7 million, is jointly supported by the AP-HP (public hospitals of Paris) and the private Rothschild Foundation. However, it brings considerable savings in terms of hospital staff and in-patient stays, according to Vincent-Nicolas Delpech, deputy director at Pitié-Salpêtrière.
Lars Leksell: Father of Radiosurgery
The concept of radiosurgery was developed in 1951 by neurosurgeon Lars Leksell, at Sweden's Karolinska Institute, with physicist and radiobiologist Borje Larsson. Using the Uppsala University cyclotron, they began by using proton beams sent from different directions into one small brain area, gradually developing a technique that Dr Leskell named the 'ray knife'. By 1968, the Gamma Knife had been developed and dedicated to radiosurgery.
In 1972, Dr Leksell and his son Laurent set up Elekta Instruments AB to manufacture the Leksell Gamma Knife and other sterotactic surgery and radiosurgery equipment based on its founder's inventions. Today, the Gamma Knife is used effectively in many treatments.