Doom and gloom but yes, there's hope and even health-promoting laughter…
Health-promoting laughter… As our year ends amid depressing global economic uncertainty, budget and staff cutbacks, threats to healthcare workers' pensions and much else, some events shine brightly through, writes EH Editor Brenda Marsh. 'These confirm that vision, courage and laughter can indeed cure many ills'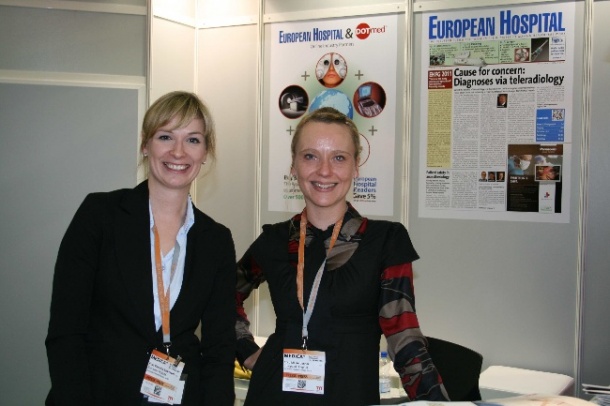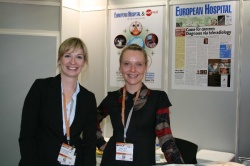 In this our final European Hospital issue for 2011 we are delighted to report the heartwarming story of Justus, a little boy with multiple congenital cardiac problems but the good fortune to encounter a paediatric cardiologist
with the stoical courage to push the boundaries of procedures and thus bring continuing hope for Justus
and his family (see pages 10-11). We were also cheered by mighty MEDICA in Dusseldorf this November. As in recent years, our team distributed our official English show publication and welcomed a large number of business partners, readers and writers to our booth, all keen to make contact with us and share their positive responses to our work as well as their own for the future.
Phew! MEDICA and COMPAMED 2011 combined had 4,571 exhibitors and welcomed 134,500 visitors from over 100 nations. After four hectic days at this the world's biggest medical trade fair, Joachim Schäfer, Managing Director at Messe Düsseldorf, praised the operational excellence of medical device technologies on show and summed up: 'Professional organisations reported an excellent mood prevailing amongst exhibitors and of good business as a result of the high attendance of international and decision-making trade visitors.'
Eminent guests included EU Health Commissioner John Dalli (Malta), the United Kingdom's Minister for Trade and Investment Lord Green and the USA's Assistant Secretary of Commerce Suresh Kumar. John Dalli was impressed by the innovation-driven growth industry and Suresh Kumar declared: 'In the aviation or automotive field the leading trade shows are dominated by major corporations alone. By contrast, Medica is a business
platform for thousands of small and medium-sized companies. The deals concluded here create new jobs immediately.'
Doom and gloom but yes, there's hope and even health-promoting laughter… As our year ends amid depressing global economic uncertainty, budget and staff cutbacks, threats to healthcare workers' pensions and much else, some events shine brightly through, writes EH Editor Brenda Marsh. 'These confirm that
vision, courage and laughter can indeed cure many ills' All in all, the strong international feedback gives the medical technology industry a tailwind for exports. So, there are the positive thoughts on employment and trade in our field. Will we be at Medica 2012 next November? See you there!
It is also rewarding to hear Siemens (page 12) indicate that increasing the power of a medical device is less important than increasing its explicit abilities in specific clinical procedures. And, that other Godsend mentioned…?
Laughter therapy
Many of us followed the hilarious American TV series MASH years ago and still enjoy re-runs even today. In the face of frontline medical work the zany humour of doctors is often a life-saver. Thus the year ends with personal thanks to the British Medical Journal (http://www.bmj.com) for publishing in
its December issue a funny study indeed. Here's the BMJ headline: Caution advised when making fun of orthopaedic surgeons What was the aim of the UK medics – P Subramanian, trauma and orthopaedic specialist registrar, S Kantharuban, core surgical trainee, V Subramanian, foundation year trainee, S A G Willis-Owen, postdoctoral research scientist, and C A Willis-Owen consultant trauma and orthopaedic surgeon – who created he study? To compare and verify the intelligence and grip strength of orthopaedic surgeons and anaesthetists. Why? Because there is a stereotypical impression that orthopaedic surgeons are of lower intelligence but greater physical strength than average among the medical profession. 'This is often the subject
of light hearted humour, particularly in jokes with anaesthetists,' the authors explain. 'A humorous anaesthetic colleague recently repeated the following popular saying when an operating table was being repaired with a mallet: "… typical orthopaedic surgeon – as strong as an ox but half as bright". Making fun of orthopaedic surgeons is a popular pastime in operating theatres throughout the country. This pursuit has recently spread to
the internet; a humorous animation entitled Orthopedia vs anesthesia* had received more than half a million
hits at the time of writing. 'Several comparisons of orthopaedic surgeons to primates have been published, and the medical literature contains suggestions that orthopaedic surgery requires brute force and ignorance.
'The stereotypical image of the strong but stupid orthopaedic surgeon has not been subject to scientific
scrutiny. Previous studies have shown that the average hand size of orthopaedic surgeons is larger than that of general surgeons. However, a search of the worldwide scientific literature found no studies assessing the strength or intelligence of orthopaedic surgeons. In the absence of a cohort of willing oxen as a control group, and given that the phrase is popular with anaesthetists, we designed this study to compare the mean grip strength of the dominant hand and the intelligence test score of orthopaedic surgeons and anaesthetists.'
The multicentre prospective comparative study With the main outcome measures intelligence test score and dominant hand grip strength, 36 male orthopaedic surgeons and 40 male anaesthetists at consultant or specialist registrar grade at three district general hospitals took part in study, which took two weeks in all. Results: The orthopaedic surgeons had a statistically significantly greater mean grip strength (47.25 (SD 6.95) kg) than anaesthetists (43.83 (7.57) kg). The mean intelligence test score of orthopaedic
surgeons was also statistically significantly greater at 105.19 (10.85) compared with 98.38 (14.45) for anaesthetists. Ah, so on to their …conclusions: 'Male orthopaedic surgeons have greater intelligence and grip strength than their male anaesthetic colleagues, who should find new ways to make fun of their orthopaedic friends.' Final authors' cautionary advice: 'The comedic repertoire of the average anaesthetist needs to be revised in the light of these data. However, we would recommend caution in making fun of orthopaedic surgeons, as unwary anaesthetists may find themselves on the receiving end of a sharp and quick witted retort from their intellectually sharper friends or may be greeted with a crushing handshake at their
next encounter.'
And so, dear readers, we leave you with a smile and a promised welcome when you return to our pages in 2012. Best wishes, The EH team