The extracorporeal lung
German medical technology firm Novalung GmbH (est. 2002) produces extracorporeal artificial lungs.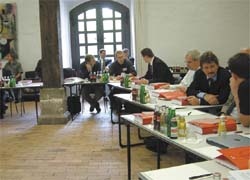 Acute lung failure results in a 30-40% mortality rate. Along with this, the use of conventional mechanical ventilation could result in damage to lungs and other organs, which might take years to heal.

German medical technology firm Novalung GmbH (est. 2002) produces extracorporeal artificial lungs - such as the 'Interventional Lung Assist' (iLA) device, which 'breathes' for a patient, taking the strain off diseased/damaged lungs and giving them time to recuperate.

Recently, Novalung invited about 40 leading international lung specialists to attend its first lung symposium, to discuss new treatment methods for lung failure. Clinical, economic and ethical aspects of artificial ventilation for diseased/damaged lungs were discussed, along with measures and techniques to assist their regeneration. Professor Luciano Gattinoni, intensive care specialist at Milan University, said: 'The potential for treating lung failure has not yet been fully realised.' This, he added, is particularly true of lung protection using extracorporeal ventilation by means of an artificial lung, still used far too little despite its obvious benefits.

Dr Stefan Fischer, of the Hanover Medical School (MHH), reported on the use of the Novalung iLA extracorporeal ventilation system for patients on the lung transplant waiting list who had gone into potentially fatal lung failure. 'Without this technology,' he said, 'it is highly unlikely that those patients would have survived until a transplant could be performed.'

At Regensburg University Clinic over 130 of these artificial lungs have helped patients following acute lung failure. Professor Thomas Bein said: 'The option of inserting cannulae into the bloodstream to connect the artificial lung must be weighed up against the risk of conventional ventilation methods.'

In preparation for the second symposium in November, three working groups were formed to prepare suggestions regarding indicators for the use of artificial lungs (e.g. acute lung failure; acute infections in chronically diseased lungs; bridging the period up to lung transplantation).