Article • Preview Medical Taiwan 2019
Healthcare exhibition showcases technology from Taiwan
Artificial intelligence clinics and rehab bikes, exoskeletons and stylish protections masks – healthcare in Taiwan has many faces and facets as the international medical & healthcare exhibition Medical Taiwan in Taipei will show from 27 to 30 June 2019. We visited participating companies and hospitals to give you a sneak preview of some of the highlights that might well create a buzz in Europe.
Report: Wolfgang Behrends
From important basics to hypermodern technology Medical Taiwan covers the entire gamut the island's healthcare industry has on offer. The country is considered a trail blazer in terms of technology and thus the expectations are high. But the exhibitors are confident that their innovations will once again wow the audience.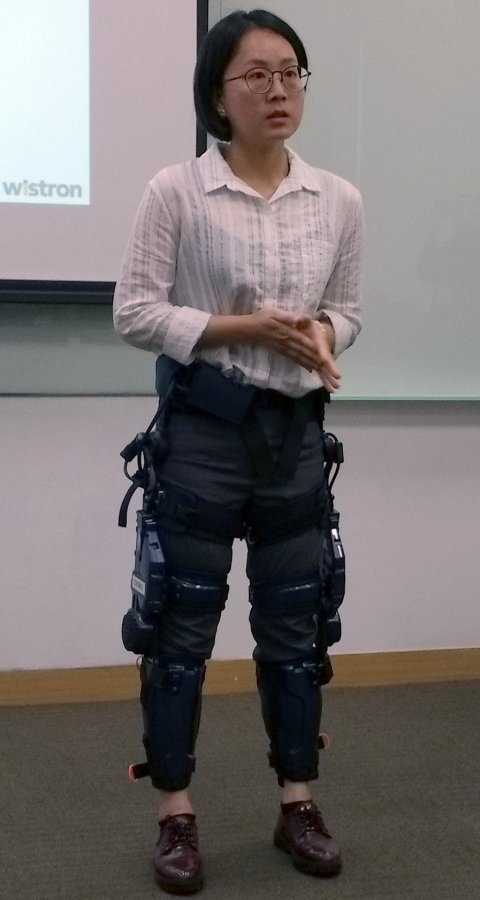 Case in point: Wistron Medical, OEM producer for partner companies. One of their highlights is BestShape, a Big Data-based software solution for the predictive analysis of dialysis values. "Arterial hypotension is one of the most common and most dangerous complications in dialysis patients," says Brian Chong, Vice President of Wistron Medical. "Our tool can reliably predict such sudden episodes and thus help save lives." The software sends HL7-data automatically to the HIS and thus avoids the errors so frequent in manual transcription.
Same company, entirely different product: the exoskeleton Keeogo designed for patients with diseases-related muscle weakness, e.g. multiple sclerosis or Bekhterev's disease. Keeogo can also be used as a rehab tool for patients who suffered a stroke or underwent surgery. The computer-supported orthesis is equipped with fine-tunable engines that amplify movements to facilitate everyday tasks such as walking, jogging, climbing stairs, sitting down and getting up.
Award-winning mobile ECG
Since it is easily portable, our ECG device is well suited for first aid and it enables precise cardiac diagnostics even in remote areas

Kelly Wang
Products that were awarded the prestigious label "Taiwan Excellence" will be prominently displayed at the exhibition. BriteMed's mobile 12-lead ECG is one of these outstanding innovations. "Since it is easily portable, our ECG device is well suited for first aid and it enables precise cardiac diagnostics even in remote areas," says Kelly Wang, Senior Marketing Manager of BriteMed. The latter aspect caught the attention of the Taiwanese health ministry which aims to improve care in rural areas. The device features a sophisticated shield which protects it from damages caused by defibrillators and thus makes it well-suited for emergencies. BriteMed will moreover present its medical-grade displays and instrument carts.
AI in the ICU
While many experts still wonder how to use blockchain in healthcare, the Taipei Medical University Hospital (TMUH) has already integrated this technology in its processes. iWellChain helps to create electronic medical records that contain all relevant healthcare data and makes them available to different facilities in digital form. Blockchain is also used in so-called Smart Contracts, inter alia to automate invoicing or to process insurance claims.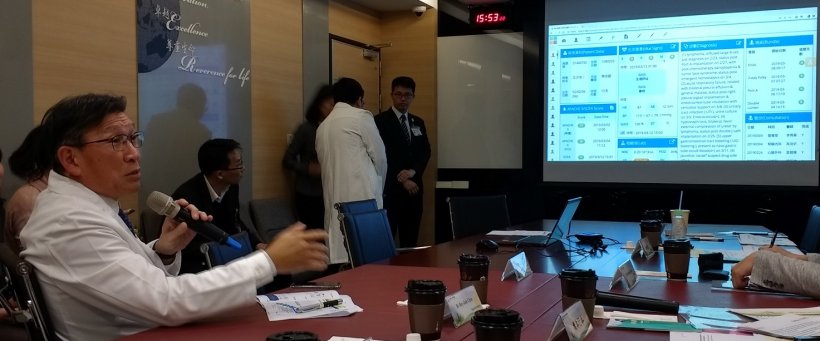 Patient data plays a crucial role in TMUH's AI-supported monitoring system. "It monitors and assesses the vital signs of our ICU patients around the clock," explains Dr Kuo-Ching Yuan of the hospital's ICU. Physicians and nursing staff can view clinical values, image data and diagnoses in easy-to-read charts and thus always have up-to-date information on the patient's status. "This technology has significantly improved the quality of ICU care," says Yuan and adds that "response times to critical events was reduced by several minutes and the number of bloodstream infections decreased by more than 60 percent." AI-support moreover reduces length of stay in the ICU and lowers treatment as well as administrative costs. The system learns from the data it collected: "Going forward we want to use the system for risk assessment, for example to predict bacteraemia or sepsis."
Mobile, resilient, stylish
Taiwanese manufacturers can do more than high-tech: at Medical Taiwan for example Pacific Cycles will present adaptive bikes that were designed to support muscle build-up and coordination after a stroke. Other models aim to help patients with cerebral palsy and similar conditions. "If need be, we can make bespoke bicycles because each customer has highly individual needs and requirements," says Daniel Tsai, sales rep at Pacific Cycles. An eye for detail and a focus on resilience are two features of Grand Tree, a manufacturer who will present medical mountings and monitor arms in Taipei. Another provider of medical components is QS Control Corporation (QSCC). The company offers a wide range of products, from parts of dialysis systems to laparoscopic instruments, orthopaedic screws and implants.
Closing the gap between fashion and healthcare is the mission of China Surgical Dressings (CSD). The company will add style to the previously strictly functional mouth and nose masks which are widely used in Asian countries outside healthcare. CSD offers its masks not only in the typical hospital colours white and turquoise but also in many trendy hues, designs or in denim look. A famous Taiwanese pop singer wears the masks in her most recent music video. The manufacturer, who also produces surgical gowns, medical-grade gauze and disinfection swipes, has even partnered with fashion magazine Elle to issue a special 'Parisian' edition of products with Eiffel tower prints. While in Europe these products are still few and far between, the Asian exhibition visitors will most likely be delighted by the fancy masks.