Swedish university invests in virtual medical technology
In its bid to offer the most modern medicine program in Sweden, Örebro University has invested in three visualization tables from Sectra.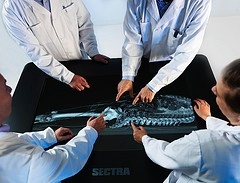 These tables will be used in several of the university's medicine programs and will replace or serve as a compliment to the dissection of bodies. Interacting with virtual bodies at the early stage of medical training provides better understanding of the body's anatomy and functions, the variation between individuals and better knowledge of more unusual illnesses. Combined, these features will significantly enhance the quality of the medicine programs.
"We have decided not to use bodies for dissection in our anatomy classes," says Professor Torbjörn Anderson, Deputy Program Director, School of Medicine, Örebro University. "We can improve our anatomical teaching with the Sectra Visualization Table. One of the major advantages of Sectra's technology, in addition to having a better overview of the anatomy, is that we can use our own medical images, which means that students can much more easily see the different variations of the human anatomy. Humans are as different on the inside as on the outside."
Two visualization tables will be used by students at Örebro University, at the traditional campus as well as at the university's new campus at Örebro University Hospital. The third table will be located at the County Council's training center. The visualization table is already being used in the medicine program, and other programs, such as the nursing and radiology nursing programs, will also benefit from the technology. Internal training for county council personnel is also a priority area.
"We have taken the initiative of starting a national partnership network for users of this new technology that we believe that most Swedish universities offering medicine and other healthcare programs will have in the future," says Torbjörn Andersson. "This network will exchange information and experience and also arrange symposia and courses for teaching all the features of this new technology."
The Sectra Visualization Table is a large, multi-touch medical display with software that facilitates interaction with 3D images of the human body created by modern computer tomography or magnetic resonance cameras. Students are able to intuitively zoom in, rotate or cut into the visualized body without using a scalpel or destroying the subject. This means that the same image can be used repeatedly, and the students are able to study the impact of various illnesses on the anatomy in a manner that was not possible in teaching in the past. A unique function of the visualization table is that each university can download and create its own teaching files from its own clinical practices as well as using the preloaded collection of demonstration cases that comes with the table.

More on the subject:
More on companies: