Cancer care
Swedish healthcare region invests in digital pathology from Sectra
The Swedish healthcare Region Östergötland is making a full commitment to digital pathology by investing in a solution from Sectra for storage, review and sharing of digital pathology images. The aim of the region's investment is more rapid care for cancer patients, in which pathology has a key role in diagnosis and treatment.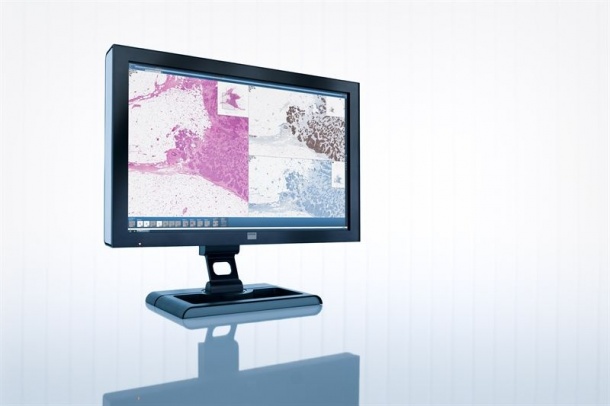 Linköping University Hospital has one of Sweden's first digital pathology departments. Since May 2014, three physicians at the Pathology Department in Linköping have been testing Sectra's IT solution for pathology. The solution is now being rolled out on a broad front and all 20 pathologists working in Linköping will be able to review examinations digitally.
"I read all of my cases digitally and feel very confident about it," says Anna Bodén, Consultant Histopathologist at Linköping University Hospital. "Sectra's solution is fast, easy to use and very stable, which is necessary because we review large volumes and fast answers are decisive for effective cancer care."
Using computer technology, the pathologists gain access to new tools that support their diagnostic work, resulting in better quality in the review. Thanks to Sectra's central storage solution, the images are always available, which makes it easier, for example, to review the examinations remotely and to discuss them with other experts, which may be crucial in complex cancer cases.
A key factor is that Sectra's digital pathology solution builds on the same infrastructure as Sectra's solution for handling radiology images (Sectra PACS) that is already used at the radiology department in Region Östergötland. This enables in-depth cooperation between radiologists and pathologists, two of the key functions in effective cancer care, as well as facilitating, for example, multidisciplinary rounds, which are part of integrated diagnostics. In addition, hospitals' maintenance and operating costs are reduced.
The IT solution for pathology that is now being introduced in Region Östergötland is based on the results of a major Swedish research project in digital pathology, in which both Region Östergötland and Sectra are participants. The project is being conducted by the Center for Medical Image Science and Visualization (CMIV) at the University of Linköping and about ten care providers are involved in the project.
Why digital pathology?
In a pathology department, tissue samples and body fluids are analyzed to identify the reasons for the patients' symptoms. The results provide guidance in the diagnosis, follow-up and treatment of various diseases. However, there is an acute shortage of pathologists, at the same time as an ageing population and more specialized diagnostics mean that volumes and demands are increasing. Digitization of tissue samples could lead to shorter waiting times, more reliable diagnostics and more efficient use of resources.
Focus on cancer care
To enable the care provider to give better, faster and more patient-centered care, Sectra offers systems and services for comprehensive handling and storage of all types of medical images - primarily for large image diagnostics units, such as radiology, mammography and pathology, but also for other departments where medical image material is used. Medical images for cancer diagnostics constitute a common thread through Sectra's offering.
In cancer diagnostics, pathology and radiology are key departments and images from these two operations are central to effective cancer care. Both of these medical disciplines are extremely dependent on access to adequate clinical information to be able to provide correct responses and reports to the responsible physicians, surgeons and oncologists and to the patient. In the field of pathology, Sectra offers a complete solution for primary diagnostics that includes storage solutions and an advanced review workstation. In the US, digital pathology for primary diagnostics is still pending FDA approval.
Read more about Sectra's digital pathology solution

Source: Sectra
More on the subject:
More on companies: