Survival of SAPIEN high-risk patients equivalent to surgery
Edwards Lifesciences Corporation, the global leader in the science of heart valves and hemodynamic monitoring, announced the three-year results of a pivotal clinical study of severe aortic stenosis patients at high-risk for surgery.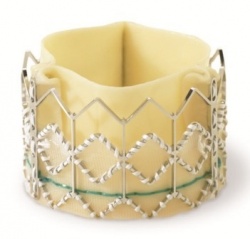 The results continue to demonstrate comparable outcomes between treatment with the Edwards SAPIEN transcatheter heart valve and open-heart surgery. These new data from The PARTNER Trial were presented today as a late-breaking clinical trial at the American College of Cardiology's (ACC) 62nd Annual Scientific Session in San Francisco.
"These three-year data from The PARTNER Trial strengthen the evidence that the SAPIEN valve is a safe and less-invasive alternative for those patients who need valve replacement, but are at high surgical risk," said Larry L. Wood, Edwards' corporate vice president, transcatheter heart valves. "The availability of the SAPIEN valve encourages the many untreated patients to work with a Heart Team to determine whether transcatheter valve replacement or surgery is the right option for them."
At three years, all-cause mortality for patients treated with the Edwards SAPIEN transcatheter aortic valve implantation (TAVI) delivered via the femoral artery or a small incision between the ribs was statistically equivalent to that of patients who had received open-heart surgical aortic valve replacement (AVR). Symptom improvement and valve performance was similar in both groups and was maintained through the three years of patient follow-up. The incidence of stroke between TAVI and surgery patients was also comparable. (See table below for specific data points.)
The PARTNER Trial is the first randomized, controlled trial of a transcatheter aortic valve in the United States. The high-risk surgery cohort (Cohort A) of the trial enrolled between May 2007 and Sept. 2009 and studied 699 patients with severe, symptomatic aortic stenosis deemed at high risk for traditional open-heart surgery. Patients were evaluated by a multi-disciplinary Heart Team and randomized to receive either traditional open-heart surgery or the Edwards SAPIEN valve with transfemoral or transapical delivery.
The Food and Drug Administration (FDA) approved the SAPIEN valve in November 2011 for the treatment of inoperable patients, and expanded the indication to high-risk surgical patients in October 2012.