Advances in mitral valve replacement
Initially limited to the aortic valve, interventions are becoming routine for the mitral valve. Thus the only available product has enjoyed huge commercial success – until now. Report: Holger Zorn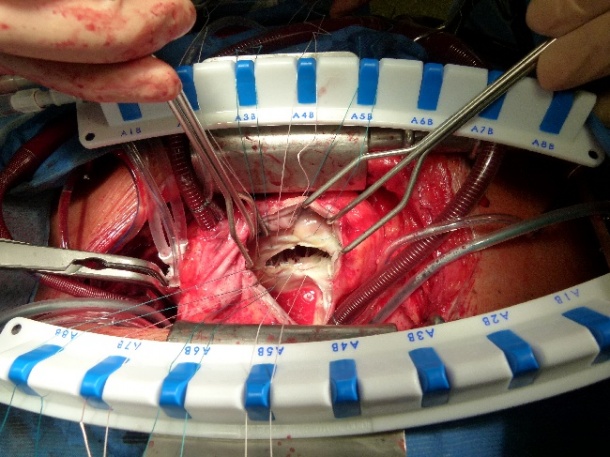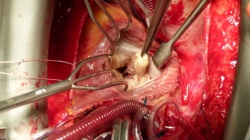 In May 1925, at The London Hospital, when British surgeon Henry Souttar attempted surgery and used his finger to open a patient's severely blocked mitral valve he was able to refute the then popular view that no disease affected heart valves. Nonetheless, for several decades referring cardiac specialists has been ignoring him and his epoch-making intervention, letting rapid developments in heart surgery take their course for the rest of the century.
Unintentionally, therefore, Henry Souttar probably has the honour of being the only cardiac surgeon ever to have achieved a 100% success rate. Cardiologists are now recapturing that ground. Holes in the cardiac septum are closed and thrombosis in the atrial auricles is occluded with interventional procedures. Surgeons open blocked valves, fit new ones in the aortic position (TAVI) and increasingly venture towards treating mitral valve insufficiency (image). Sowmya Rajagopalan, Programme Manager for Medical Devices at the markets consultancy Frost & Sullivan, remembers: 'Ironically, in 2000 it was predicted that interventional mitral valve therapy would grow more rapidly than interventional aortic valve therapy, but it proved otherwise.' With hindsight this appears to be logical because mitral valve insufficiency (MI) -- the inability of both leaflets to close properly -- is not noticed by patients over a period of several years and only leads to severe cardiac insufficiency at a very late stage.
Treated with drugs, the disease has a ten-year survival rate of 60% whilst symptomatic, high grade aortic valve stenosis – the main indication for catheter-guided implantation of an aortic valve (TAVI) -- has a ten year survival rate of only 10% with conventional treatment. Therefore, the pressure to do something, along with the clinicians' interest as well as the medical devices industry, was obviously more pronounced here.
However, interventional mitral valve repair still has a future, although it is very unlikely to replace the conventional surgical procedures in the next 5 years at least. 'It is important to understand that specific types of patients who will most benefit from these interventional mitral valve therapies have to be established,' Sowmya Rajagopalan explains. Currently only one product that is supported by data from clinical studies is accepted by interventionists -- the MitraClip from Abbott Vascular, using sutures to mimic edge-to-edge clipping of mitral leaflets.
A significant success
Professor Stephan Baldus, cardiologist at the University Heart Centre Hamburg, recently reported clinical results from 486 patients with a median age of 75, two hundred of female (41%), between January 2009 and August 2011. At baseline, 93% of patients were in the New York Heart Association (NYHA) functional class III or IV and 71% of patients had a left ventricular ejection fraction (LVEF) ≤50%. Two-thirds of patients presented with functional MR. 99% of patients were treated with MitraClip, procedural success was achieved in 94% of patients. The periprocedural complication rate was low, with only minor bleedings as the most significant event. In-hospital and postdischarge mortality was 2.5% and 12.5%, respectively [Source: Eur J Heart Fail. 2012 Jun 8. Epub ahead of print]. Presenting these data from the German transcatheter mitral valve interventions (TRAMI) registry, Prof. Baldus believes '…that MitraClip therapy is a viable treatment option in daily clinical routine for high surgical risk patients with significant mitral regurgitation'.
Naturally no long-term data is yet available, but such success does not remain undetected. In 2011, sales reached € 26 million in Germany, which in turn encourages competition: Whilst Edwards (Edwards Lifesciences) had to abort the clinical studies on their MONARC device, and St. Jude (St. Jude Medical), on the takeover of AGA Medical, no longer found the then promising company Ample Medical, with its PS3 mitral valve repair system in their portfolio, Sorin (Sorin Group) recently invested in a start-up company that so far has only been able to show the proof of concept in porcine and human models: Cardiosolutions is developing the Mitra Spacer, which is inserted interventionally (transvenously and transseptally) or surgically (transapically) into the mitral valve position and then forms a plug-like closure of the orifice in between the mitral leaflets. An ambitious time plan is to be implemented with the US$8 million invested by Sorin. In the second half of 2013 the EU safety study will begin with the aim of achieving CE certification for surgical access in 2014 and interventional access in 2015.
Ronald Murphy, Vice President of Investor Relations, is convinced about his concept's advantages. 'Currently, there are several different technologies in development to address mitral regurgitation. Of course all of these technologies attempt to replicate open surgical procedures and involve modifying the native valve structure,' he said, adding: 'The Percu- Pro System is unique in that it does not alter the structure of the mitral valve, but simply provides a sealing surface for leaflet coaptation. The system provides an adjustable, reversible solution that does not need adjunctive therapy nor does it modify the native valve or burn any therapeutic bridges.'