Still a lot to learn about breast cancer
Since decades women carefully feel their breast. Hoping that they will not find any evidence for lumps or other changes, that might signal breast cancer. However, a review of recent studies conclude that self-exams do not appear to reduce deaths. Whereas radiation therapy may lower recurrence rate of rare breast cancer.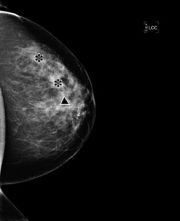 Last week EH Online reported about the recent indications that mammography might not be enough to safe women with familiar background or genetic susceptibility to suffer on breast cancer. This week two further studies show that there is still a lot to learn about the critical disease.
By analysing recent studies researchers from the Nordic Cochrane Centre found, that there is no evidence that self-exams actually reduce breast cancer death. Instead, "at present screening by self-examination or physical examination by a trained health-worker cannot recommended," Jan Peter Koster and Peter Gotzsch of the Nordic Cochrane Centre conclude in the review. The practice may be doing more harm than good, since it led almost twice as many biopsies that turned up no cancer in women who performed self-exams compared to those who did not.
In the two large studies included in the review, 388,535 women in Russia and China who used self-breast exams had 3,406 biopsies, compared with 1,856 biopsies in the group that did not do the exams. At the same time, there was no significant difference in breast cancer deaths between the two groups.
Only a few days earlier a study, published in the official journal of the American Society for Therapeutic Radiology and Oncology (International Journal of Radiation Oncology*Biology*Physics), reasoned that patients with phyllodes, a rare breast cancer may benefit from receiving radiation therapy in addition to surgery to prevent recurrence.
see also:
Phyllodes tumors are rare cancers that develop in the connective tissue, while more common carcinomas grow in ducts or lobules of the breast. To date the majority of patients is treated with either a lumpectomy or mastectomy – only a small fraction of patients receives radiation therapy. Traditionally, adjuvant radiation therapy is recommended for patients with local recurrence risk of 15 per cent or greater. But the value has never been extensively studied for phyllodes tumors.
Now researchers of the Division of Radiation Oncology at City of Hope National Medical Cener in Duarte, reviewing records of 478 patients with malignant phyllodes tumors treated between March 1964 and August 2005, found that the risk of recurrence for this rare breast cancer was related to tumor size and the type of surgery they received. The experts determined that radiation therapy should be evaluated for tumors at least two centimetres in size or a mastectomy for tumors at least ten centimetres in size to reduce the risk of recurrence.
Anyway, for many women it will not be enough only to wait, if tumors will grow or worse will get back. Most of them particular those who already suffered on breast cancer will check themselves. Carolyn Runowicz, director of The Carole and Ray Neag Comprehensive Center at the University of Connecticut Health Center, still encourages women to exam their breasts periodically. Adding, that 50 per cent to 60 per cent detect their own breast masses.
Therefore, the authors of self-exam-review do not want to discourage women to continue with breast self-exams. But recommend that women should always "seek medical advice if they detect any change … and [it] should be discussed to enable them to make an informed decision," Kosters said.