Sono-elastography
A valuable additional method to improve diagnostic precision of prostate cancer
Martini Clinic, in the University Hospital Eppendorf (UKE) campus in Hamburg, is one of the world's major centres for nerve-sparing prostatectomy. The Martini physicians not only specialise in surgical intervention but are also at the cutting edge of diagnostics, being among the few in Germany to use sono-elastography, an innovative tool to detect prostate cancer.
We asked Dr Georg Salomon (GS), chief physician and head of diagnostics at Martini Clinic, who has used sono-elastography for over a year, about this work and his aims to improve the diagnosis and prognosis of prostate cancer.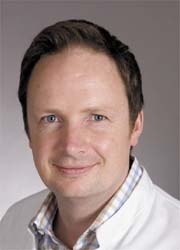 Dr George Salomon: We are currently using sono-elastography with high-risk prostate cancer patients who underwent biopsy but show a high PSA value despite negative tumour results. With these patients sono-elastography offers a complement to conventional ultrasound since measuring tissue elasticity allows us to gather information on suspicious regions that were not identified during biopsy. So far the results have been very promising. As soon as we have identified a suspicious region we can perform targeted biopsies, which increase diagnostic accuracy.
We validate this method by ten biopsies thus working with the current gold standard. In a final step we compare the results and use additional information from our database, in which we save all the elastograms we have performed.
How reliable is this method?
At this point our patient cohort counts approximately 100 patients with negative biopsy findings. We have to analyse these data before we can make valid statements on the reliability of the method.
In a previous study we were able to show that sono-elastography as such offers diagnostic benefits. We compared pre-surgery ultrasound data of cancer patients with the post-surgical histological results of the removed tissue. Sensitivity and specificity were about 76%, the positive predicative value was 87%, and the negative predictive value was about 59%. That means the method is significantly better than conventional ultrasound.
However, to assess the precise diagnostic benefit we need more data that we can analyse. Sono-elastography is only an acceptable diagnostic tool for prostate cancer if it offers the same reliability as the gold standard. At this point, measuring tissue elasticity is a mere complement, which provides additional information.
What would a physician need to learn to use this?
As with any other modality there is a certain learning curve for sono-elastography. First, one has to understand how the hard tissue is displayed. That means the user has to move the transducer precisely, in order to generate the elasticity images. In a second step the images have to be interpreted based on their reproducibility. And finally the elastogram has to be compared with conventional ultrasound. If, for example, the elastogram shows hardened tissue, the ultrasound image can provide information on the nature of the hardened tissue, for example whether it is a calcification. Currently, the criteria to assess elastograms are not yet standardised but there are different ideas on how to arrive at a standardisation.
Despite these positive results the method is not being used widely in Europe. Why not?
On the one hand this can be attributed to the fact that the industry has neglected this method for a long time. Promising approaches have been around for a couple of years, but they were not followed through. Today, as far as I know, the Hitachi system is the only one on the market that offers this diagnostic benefit. But things seem to be moving ahead as other companies are increasingly interested in sono-elastography – a fact which proves that the method is indeed promising.
At the same time sono-elastography is increasingly used clinically as an additional modality. This will provide more data to work with in order to assess and optimise the method.
In short: I'm convinced that sono-elastography offers a valuable additional method to improve diagnostic precision of prostate cancer.