Solutions for Sustainable Cardiovascular Care
Siemens Healthcare presented solutions for sustainable cardiovascular care at the European Society of Cardiology (ESC) congress in Paris, France, under the motto "Are you ready for the long run?". This includes all modern imaging technologies, in-vitro diagnostics, IT solutions and consulting services.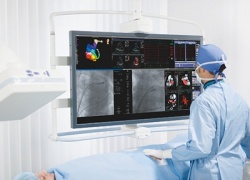 The numerous medical innovations in recent times show that modern cardiovascular care is in fast and constant change. Examples are novel minimally-invasive interventions, improved disease management in heart failure, innovative methods in atrial fibrillation ablation or the personalized medicine approach in cardiomyopathies. The sustainable Siemens solutions enable cardiologists not only to make sound clinical decisions and provide safer procedures, but also address the growing economic challenges faced by today's healthcare systems.
At ESC, Siemens experts presented selected cardiovascular diseases and procedures as examples to demonstrate how imaging modalities, IT solutions, in-vitro diagnostics and consulting services can help to meet the challenges in cardiovascular care. Imaging modalities offer faster image acquisition with increased ease-of-use, without compromise in image quality. Minimally invasive procedures are increasingly performed in therapy. Novel interventions such as TAVI (Transcatheter Aortic Valve Implantation) require detailed visualization of cardiac and aortic anatomy in 3D to improve procedural precision. In addition, intelligent IT solutions assist cardiologists and cardiothoracic surgeons in their daily routine. Sustainable cardiovascular care means also minimizing the dose of ionizing radiation and contrast agents. Under the name CARE (Combined Applications to Reduce Exposure), Siemens has developed a series of technologies that help reduce radiation dose and the amount of contrast agent used in cardiovascular examinations.
Through various presentations and discussions, clinical experts from across Europe and the U.S. will address controversies in cardiology related to the management of structural heart disease, heart failure, coronary artery disease and cardiac arrhythmias. Conference attendees will also have an opportunity to take part in "hands-on tutorials": Run by renowned clinical experts, the tutorials will enable participants to practice on Siemens systems and learn latest clinical workflow concepts in Cardiovascular CT and MRI, echocardiography and interventional cardiology.
Efficient Workflow and Improved Diagnostic Confidence in 4D Echocardiography
Siemens presents the 2.0 release of its Acuson SC2000 volume imaging ultrasound system demonstrating how new applications for volumetric imaging and analysis set new standards in 4D echocardiography workflow. The new system has taken volume imaging in echocardiography to a new level. In one heart cycle and without stitching or ECG gating, the system acquires the full volume of the heart at a 90 by 90 degree angle – including volumetric quantification of color Doppler, as well as the left and right ventricles. The system features a new application: eSie PISA, an advanced application that provides semi-automatic quantification of the proximal isovelocity surface area (PISA) from 4D color Doppler data which allows the assessment of the severity of valvular disease.
Innovative technology optimizes cardiac magnetic resonance imaging (MRI)
At ESC, Siemens showed its Dot (Day optimizing throughput) workflow technology for MRI. The Cardiac Dot Engine was developed to reduce the complexity of cardiac MRI scanning and to increase productivity. The new technology guides the user step-by-step through cardiac exams, which are widely regarded to be some of the most complex MRI exams. With the Cardiac Dot Engine, customized protocols are automatically selected based on the patient's condition and clinical indication with just a few mouse clicks. Standardized long and short axis views are generated on the basis of anatomical landmarks, and are automatically carried over for subsequent sequences. Through the user guidance, patient personalization, and exam automation provided by Dot, facilities can increase their productivity by up to 50 percent. Technologist Matthew Benbow and cardiologist Russell Bull, MD, from the UK's Royal Bournemouth Hospital are already working with the technology, and have not just been able to improve their workflows to a very great extent, but are also benefiting from the greater ease with which cardiac MRI exams can be performed: "Previously, only two of our 16 radiographers were able to carry out a cardio investigation. Today, they can all perform such a procedure, as it is easier to learn and apply than used to be the case."
The Cardiac Dot Engine is available with Magnetom Aera (1.5 Tesla) and Magnetom Skyra (3 Tesla) scanners.
Low dose in cardiology
For many years, Siemens has been offering a range of solutions focusing on "Low Dose", which reduce the dose needed for imaging methods in cardiology. For its radiological devices that work with X-rays or radioactive tracer substances (tracers), Siemens has developed the Combined Applications to Reduce Exposure (CARE) - that enable the dose to be reduced significantly without compromising image quality. Siemens has continuously expanded this CARE-portfolio: CARE Analytics is the latest addition to this extensive CARE portfolio, which help physicians to reduce X-ray dose. With this new application, the doses that patients receive during a cardiac examination involving computed tomography (CT) or angiographic systems can be analyzed and evaluated. Thus CARE Analytics can help physicians and clinical staff to optimize their scan protocols and be more sparing than in the past with the dose given.
FAST CARE is a Siemens technology platform especially for CT scanners which helps clinical staff to perform CT examinations faster and more efficiently than before. The Fast CARE applications simplify workflows when preparing the scan or image reconstruction. For example, the system suggests certain parameter settings for image quality or dose reduction and automates many operating procedures. This standardizes processes and makes results more reproducible. Patients can benefit from lower radiation doses and shorter examination times. Siemens has been offering customers the service package Siemens Utilization Management (UM) for some time. This service sends the customer data regarding the utilization and efficiency of their devices in the form of a report. The self-explanatory statistics provide customers with an important basis for implementing improvements to their examination sequences or for more general improvements regarding the optimum handling of their system. An additional new feature has now been added: the "Dose Report" will provide all users of computed tomography scanners in the Somatom Definition family with an overview of the dose used during the various examinations.
These scan protocols can help physicians and clinical staff to configure examinations that even apply less dose than in the past. IQ•SPECT brings enhanced value to patients, medical facilities, and cardiologists and is an ideal fit for hospital-based cardiology imaging needs. It has been shown to reduce radiotracer doses by up to 50%, thus translating into lower amounts of radiation for the patient, and potential increased cost savings and access to radiotracer supply for the medical facility. IQ•SPECT utilizes SMARTZOOM collimators, which focus on the heart, collecting up to four times more counts than conventional parallel-hole collimator.
Interventional cardiology
Hybrid cath labs combine the attributes of a cath lab and those of a surgical OR. Here, catheter specialists and heart surgeons frequently work side-by-side, so that possible complications, i.e. during a heart valve implantation, can be resolved immediately. First-class angiography devices like those are offered by the Siemens Artis zee and Artis zeego product families and are important in such highly complex interventions. The Artis zeego system supports cardiologists and surgeons in the treatment of structural heart diseases with its unique positioning flexibility and its quality 2D and 3D imaging. The company's Clear technology and a new generation of X-ray tubes further optimize the images. As a result, contrasts are more readily visible than before, even in real-time imaging of adipose patients.
The trend towards the minimally intensive treatment of structural heart diseases continues to
gather pace. Intraprocedural 3D representations of anatomy using Siemens' Syngo DynaCT
Cardiac software play a major role here. With the aid of this software, images captured during rotational angiography are reconstructed into a volume. Relevant structures such as the left atrial appendage (LAA) can thus be segmented, providing support in the planning and execution of the intervention. "Every LAA is different", explained Professor Michael Block, Chief Cardiologist at Munich's Klinik Augustinum in Germany, with reference to the procedure. "The Siemens Syngo DynaCT Cardiac's 3D software helps us to determine the size and shape of the left atrial appendage, and to close it by using a tiny 'umbrella' (e.g. the Watchman Device of Boston Scientific). This helps to reduce the stroke risk for patients with heart arrhythmia".
In the case of Transcatheter Aortic Valve Implantation (TAVI), 3D images of the patient's anatomy are also indispensible. The Syngo Aortic Valve Guide software automatically extracts a 3D representation of the aortic root from the captured images, and marks anatomical orientation points such as the coronary ostia. Two-dimensional fluoroscopic images from the live fluoroscopy are superimposed on this 3D image. This enables the physician to orient himself in the patient's body three-dimensionally and in real time while navigating the new valve to its intended location.
Solution for Nuclear Cardiology
Siemens is demonstrating how users of the Symbia S and Symbia T series, SPECT and SPECT•CT systems, respectively, are taking advantage of IQ•SPECT, to dramatically reduce the length of imaging protocols. A field-upgradeable combination of hardware and software, IQ•SPECT is helping nuclear cardiologists cut the cardiac imaging protocol from 20 minutes to less than five minutes. These shortened exams enable a sustainable approach to nuclear cardiology that potentially enables decreased radiation dose to patients, assists to make the procedure more tolerable for the elderly, provides high quality diagnostic information, and allows users to better utilize an imaging resource that is hampered by limited availability of the key radiotracer.
Cardiovascular IT solutions – quick and easy to use
Siemens Cardiovascular IT Solutions optimize clinical workflows by integrating imaging and information, and are designed to make healthcare faster, better, and more cost-effective. Highlights at ESC include a new version of the multi-modality image viewing and archiving, reporting solution, Syngo Dynamics, and the imaging software Syngo.via on one workstation1 helping the clinician save time and improve their workflow.
Syngo.via is Siemens' imaging software for multimodality reading of clinical cases that automatically prepares images and enables timely navigation through a case – in line with diseasespecific requirements. When this solution interfaces with Syngo Dynamics, routine and 3D preprocessed multi-modality images are available and integrated with structured reporting. Syngo Dynamics' new Cardiovascular Patient Jacket2 and Analytics2 functionalities will provide a holistic, patient-centric view for the clinical team that expands upon the realm of in vivo diagnostics and also includes in vitro diagnostics data. The flexible user interface allows clinical and business analyses through customizable Key Performance Indicators (KPIs).
Additionally, the new Cardiovascular Whiteboard2 functionality brings a new level of efficiency to cardiology departments. The Web-native user interface will allow practically anywhere, anytime access3 to robust tools to manage procedural scheduling among care teams and corresponding resources.
New consultation model for cardiology
Siemens is presenting its new consulting offering for cardiology at the Congress. The "Act on Acute Coronary Syndrome" model focuses on all aspects of delivery of care in acute coronary syndrome, while "Act on Heart Failure" comprehensively covers the whole care process in the area of heart failure from patient admission to discharge and follow-up. Modified from established models in industry, a team of clinical experts from Siemens assesses the maturity levels of the processes and structures in cardiology departments. Comparing with a knowledge base that contains international guidelines, scientific evidence and the experience of leading clinics worldwide, the consultants then develop measures for the client to improve clinical processes and achieve a measurably higher quality of care.
Lab diagnostics in cardiology: Troponin test and NT-proBNP/BNP test
Today, cardiac troponins are the preferred blood markers for diagnosing myocardial infarction or acute coronary syndrome. Siemens was the first company to develop a fully automatic, highprecision and highly sensitive troponin test ("TnI Ultra"), which fulfilled the stringent requirements of the ESC and ACC (European Society of Cardiology/American College of Cardiology). The advantages of the Siemens test: It enables an earlier and better identification of infarct patients. Patients suffering from heart failure exhibit elevated levels of BNP (B-type natriuretic peptide).
Heart failure can be differentiated from other disorders with similar symptoms very quickly by performing BNP analysis. A reliable and cost-effective blood analysis tool for diagnosing heart failure is thus available to physicians in addition to imaging techniques. Siemens also offers its NTproBNP/BNP assays on all analyzing systems belonging to the Immulite, Dimension and Advia Centaur product families. In addition to imaging methods, physicians are provided with reliable and cost-effective auxiliary tools for the diagnosis of heart failure.
1 The information about this solution is preliminary. The solution is under development and is not commercially available.
2 This feature is only available in English; therefore it will be only sold in countries/regions where the regulatory
competent authorities allow for English language based medical devices to be delivered to customers.
3 Prerequisites include: Internet connection to clinical network, DICOM compliance, meeting of minimum hardware
requirements, and adherence to local data security regulations.
More on the subject:
More on companies: