Article • Intelligent assistance
Smart aid offers real time analysis for cancer surgeons
Computer scientist Stefanie Speidel, who became a Professor for Translational Surgical Oncology at the National Centre for Tumour Diseases, in Dresden in Germany this April, researches intelligent assistance systems for the operating theatre.
'Robots in the operating theatre, for instance the Da-Vinci-System, are good mechanical aids,' Speidel pointed out. 'But we want to make additional help available with our specialist software. This should improve the surgeon's work even further, particularly for minimally invasive interventions. The software delivers images during surgery that display additional information, such as details about the exact location of a tumour. This is particularly important when the surgeon operates on soft tissue in the abdomen, for example. Breathing, heartbeat, or the use of mechanical instruments, continuously change the position and shape of tissue and organs. The software helps to predict this movement and adapts the surgical intervention accordingly – and in real-time! This goes way beyond the information doctors receive prior to a CT scan, for instance.'
How the software works
'We combine image and sensor data obtained prior to and during surgery with biomechanical models and develop new programmes that can instantaneously calculate positional changes with this information. This is especially helpful for cancer surgery because interventions can be carried out more precisely and tumours can be completely removed with more certainty – without removing too much healthy tissue and without injury to important blood vessels, as doctors also receive relevant information during surgery.'
A virtual reality solution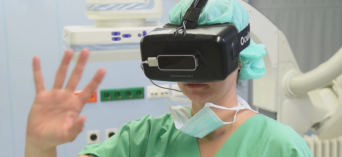 'We are also developing special software for smart glasses to help the surgeon to obtain a three-dimensional model of the operating field prior to surgery. The smart glasses are used for planning prior to surgery. So far, we have had very positive experiences; surgeons have been very accepting of the system.'
Might a doctor one day be assis­ting a robot or the software?
'No. We are basically trying to provide assistance during surgery by processing complex amounts of data to make the right information available at the right point in time – but the ultimate medical decisions will always be made by humans.'
Is a leading female computer scientist a bit rare in Germany – and was the ascent rocky?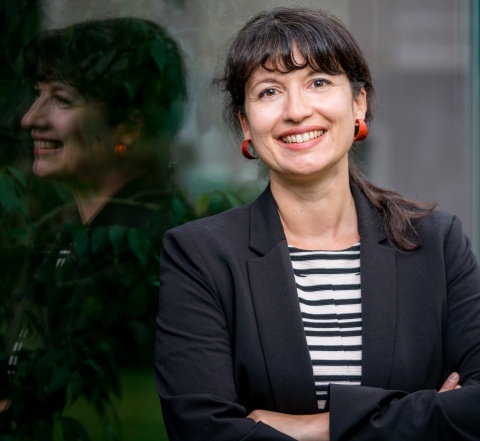 'I can't actually say that. I've always found myself in supportive environments, and walked straight through all the doors that opened for me. But yes, there are not enough role models in Germany. Comparing it to the situation in Spain, you will notice a big difference as the number of women studying information technology there is much larger, but there seems to be more hesitance around this topic here.' 'Generally, women should be more confident, give things a try and not question themselves even beforehand… We can certainly learn something from men here!'
Profile:
Stefanie Speidel studied at the technical University of Karlsruhe (in her home town) in Germany and at the Royal Institute of Technology, Stockholm, Sweden. Post-graduate research followed at Heidelberg University, Germany. Since 2012, she has also run a junior research group on computer-assisted surgery at the Karlsruhe Institute of Technology (KIT). Among a number of scientific honours she gained the Technology Award of the European Association for Endoscopic Surgery (2007), the Maria Gräfin von Linden Prize (2011) and the Margarete-von-Wrangell-Fellowship (2011). Speidel also received two awards for outstanding teaching. This April she became Professor for Translational Surgical Oncology at the National Centre for Tumour Diseases (NCT) in Dresden, which was set up by the German Cancer Research Centre (DKFZ), the Faculty of Medicine Carl Gustav Carus of the Technical University Dresden, the University Hospital Carl Gustav Carus Dresden and the Helmholtz Centre Dresden-Rossendorf (HZDR).