Single Shot Spectral Imaging
Will this be the future of mamma diagnostics?
The limitations of mammography are well documented, yet it is still the gold standard in breast cancer detection - particularly due to the positive cost-benefit ratio. Due to prohibitive costs, MRI exams are performed only in well-defined cases. The HIGHREX project (www.highrex.eu) aims to evaluate Single Shot Spectral Imaging (SSSI) technology for use in mamma diagnostics.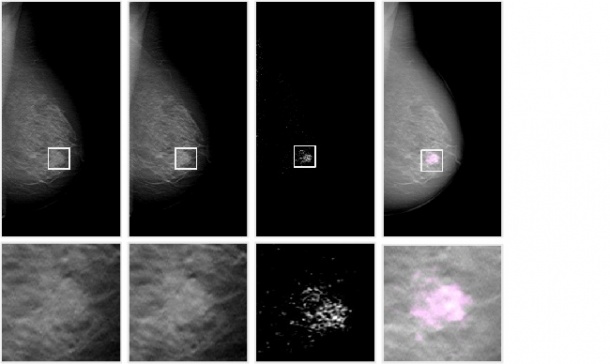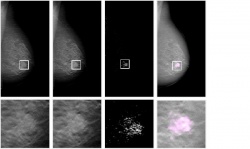 The consortium is led by Professor Mats Danielsson, founder of Sectra Mamea and inventor of photon-counting technology for breast diagnostics.
Charité Berlin, a clinical partner in the project, is responsible for the development of contrast-enhanced Spectral Imaging. Dr Felix Diekmann, assistant medical director at the Clinic for Nuclear Medicine at Charité, discussed SSSI in an interview with Meike Lerner.
'Single Shot Spectral Imaging (SSSI) is based on tomosynthesis, a rather new 3-D mammography technique developed to overcome, at least partially, the overlapping of structures, one of the major limitations of mammography,' explained Dr Diekmann, at the Charité Nuclear Medicine Clinic. 'If, in addition, iodinated contrast media is applied, a further limitation of conventional mammography could be overcome: poor tumour contrast. This is where slit-scan tomosynthesis, using a photon-counting detector, comes in; it is particularly well suited for breast imaging since its spectrum splitting technology allows dual energy visualisation of the contrast media in a single scan – and with low dose – while generating a 3-D image of the breast. The long-term objective is to develop a financially viable procedure that offers the same image quality as breast MRI.'
Are there advantages in SSSI over photon-counting?
'In the German mammography screening programme, several facilities perform 2-D mammography based on photon-counting detectors. The new method – slit-scan tomosynthesis with Spectral Imaging – can build upon the experiences gathered in these facilities and the existing detectors can be used. 3-D breast imaging and the application of iodinated contrast media are new features in mammography. 3-D procedures avoid overlapping of structures, which to date reduces the visualisation of tumours. The other major issue in conventional mammography -- low tumour contrast -- is addressed with the use of contrast media. In brief, the new approach promises to offer significantly increased detection of breast cancer.
'The new procedure shows very promising results, particularly in women with dense breast in respect of surrounding tissue. At this point, it is only used when one of the established procedures and modalities (clinical examination, ultrasound, MRI) give reason to suspect a tumour. The current study aims to answer the interesting question of whether contrast-enhanced tomosynthesis with Spectral Imaging is superior or inferior to MRI. Although a final answer can only be offered after the study has been completed, we are seeing some rather encouraging results.
'The procedure is faster and easier to perform than breast MRI. For the first time ever, it allowed us to visualise certain pathological changes in the breast, such as lobular intra-epithelial neoplasias (LIN). Spatial resolution is much better than in MRI, which means the morphology of lesions is easier to assess. Additionally, unlike MRI, tomosynthesis can visualise calcifications – particularly important since micro-calcifications often indicate DCIS, ductal carcinoma in situ, considered a preform of invasive cancer.
Could SSSI replace MRI?
'The research project aims to develop a procedure that can be used as an alternative to MRI. This approach makes sense, in view of the financial pressures in healthcare: a procedure that offers the same or better diagnostic quality as current methods, while being cheaper and more widely available, is desirable. However, designing the new procedure as a mere add-on to conventional diagnostics is more problematic, since it will reduce the new procedure to just another expense item. We need to mention that at this point in research the new procedure does show certain disadvantages. For example in MRI, so-called water imaging using a T2-weighted sequence is a routine application in certain cases, such as fibroadenoma diagnosis. In Spectral Imaging that's still pie in the sky.'
Are there other research approaches using contrast media?
2-D mammography also offers the possibility to visualise contrast media. Only recently, I published a first, large clinical evaluation of this procedure in the European Journal of Radiology. We used GE Healthcare's Senograph 2000D with temporal subtraction. As far as I know most published studies on the use of iodinated contrast media in mammography were performed with this equipment, some even applying a sort of Spectral Imaging, meaning two images were acquired, one with low and one with high energy. Since two images need to be taken, motion artefacts are much more of an issue than in tomosynthesis with Spectral Imaging, where only one image is required, because the photon-counting detector separates the high and low energy spectrum. There are some promising studies on dual energy tomosynthesis using flat panel detectors.
'In addition to the approaches described, other research projects are aiming to overcome mammography limitations. One method that showed promising results is laser mammography, which is also being used at Charité-Virchow-Kliniken and which applies tolerable contrast media very well. The advantage of the method is the fact that it does not involve radiation exposure. The current major disadvantage is poor spatial resolution.'