Simply Superb Microvascular Imaging
One of the most stunning additions to Toshiba's Aplio platform is the enhanced Superb Microvascular Imaging (SMI) capability, the company reports
'An intelligent imaging tool, Superb Microvascular Imaging (SMI) moves beyond conventional colour Doppler technology by applying a unique algorithm allowing visualisation of small vessels with low velocity, while maintaining high resolution, minimal motion artefacts and high frame rates,' Toshiba proudly reports.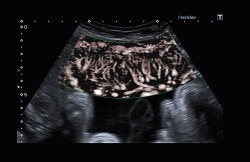 Jiro Hata PhD MD, who works at the Clinical Pathology and Laboratory Medicine Department and is Professor at the Kawasaki Medical School in Okayama, Japan, supports the firm's enthusiasm. 'SMI ensures vascular imaging with outstanding detectability for low-velocity blood flows, even in studies performed without the use of a contrast medium,' he said. 'This technique is of great value for early diagnosis and treatment planning in patients with cancer, tumours, rheumatoid arthritis and many other medical conditions.'
The principle underlying SMI is a powerful and intelligent algorithm that effectively separates flow signals from overlaying tissue motion artefacts, preserving even the subtlest low-flow components with unmatched detail and definition, Toshiba points out. 'SMI analyses clutter motion and uses a new adaptive algorithm to identify and remove tissue motion and reveal true blood flow.'
The system comes in two modes, greyscale and colour, the latter displaying B-mode and colour information simultaneously, whilst the greyscale mode focuses only on the vasculature by subtracting the background information, thus improving sensitivity.
According to Dr Hata, SMI has demonstrated significant clinical value in the evaluation of the density and shape of tumour vessels, and the visualisation of blood flow within superficial lesions is an excellent application of SMI.
In his investigation of the clinical utility of Superb Microvascular Imaging for assessing musculoskeletal inflammation, Dr Lim commented: 'Our early experience with SMI shows that it has excellent depiction and fine detail of the microvasculature not seen with routine Doppler technology. With significant increased sensitivity SMI has great potential in identifying low-grade inflammation that was not possible previously.
The improved diagnostic confidence with this technology would have a significant clinical impact and influence clinical management of patients.'
Comparing power Doppler to SMI in a study of 29 patients with low-grade inflammation of joints and tendons, Dr Lim reported that there were 16 patients where vascularity was only seen using SMI and the ability to assess the microvascularity led to a change in treatment management for 12 of those patients.
Applying SMI to an analysis of the microvascular tree in reactive and suspected malignant lymphadenopathy in advanced stages of malignant melanoma, Professor Fischer summarised: 'SMI, which can be used with or without contrast agents, constitutes a novel and promising technique for visualising microcirculation. In particular, SMI provided relevant information that allowed the evaluation of small lesions, subcutaneous masses and structure in the region of the scar.' He suggested SMI could be used to help assess carcinomas and scan lymph nodes.
SMI can be combined with contrast-enhanced ultrasound (CEUS) to enhance sensitivity and accuracy further in exams. Yet a significant clinical contribution would be the possibility for diagnostic assessments using SMI without CEUS, Toshiba points out.
In a roundtable discussion, Dr Lim told colleagues: 'The combination of SMI with contrast is very powerful. Many times we have asked in clinical routine if we can avoid using contrast, because of the time and expense, and we are finding occasions where we really can do so, using SMI with images that are not distorted and are normal and patterned. I would very much like to see this as a comparative study.'
While contrast-enhanced ultrasound increases the detectability of blood flow, it does have a number of drawbacks in that CEUS is not readily available everywhere, it is subject to certain restrictions regarding contrast agent use and it places an additional cost burden. SMI is a perfect tool helping clinicians to overcome these drawbacks.
A new chapter in vascular studies
After delivering their conclusions on diverse applications for Superb Microvascular Imaging (SMI) with the Aplio Platinum Series, three physicians arrived at a similar opinion regarding the potential this new capability presents for expanding an understanding of blood circulation in microvessels.
Horst Kinkel MD, Head of Ultrasound at the Academic Teaching Hospital in Düren, Germany, used SMI in conjunction with several probes, including a new laparoscopic transducer.
Assessing the liver, he said: 'When I switch on SMI, I can be very sure of my diagnosis. Even without contrast there's a better result than with conventional Doppler. With SMI I can see small vessels that were not visible before, so we'll probably have to write a new chapter in the book.'
In presenting his findings from studies, Prof. Fischer made a similar suggestion that '…because we see much, much more of vascularity with SMI, such high, brilliant contrast with edges like we have never seen before, we actually have to learn how to interpret these images in order to understand'.
Jader Cruz MD, also agree with this. An obstetrician with the Centro Hospitalar in Lisbon and a leading authority in foetal medicine, Dr Cruz said that, with SMI, 'We can see things we are not used to seeing. We're learning how to look at the images, to interpret them and asking how we can apply these assessments in the future.'
In a unique application of Superb Microvascular Imaging, Dr Cruz examined the microcirculation in the tiny hearts of foetuses at 12 weeks and found the monochrome mode the most effective in this assessment. 'While SMI was not developed for this exam, it works very well here because it removes the clutter in the ultrasound image,' he explained. 'You cannot see these hearts very well with 2-D ultrasound, but now, with SMI, I can see the structures very well – a view of the four chambers, the vessels, everything. I can see the chambers filling, even the crossing of the vessels. Most impressive for me is to see the septum, a clear view of the septum, and as I sweep down I can see the aorta coming out. This is amazing.'
More on the subject:
More on companies: