Siemens today supports "Doctors of the World"
On the occasion of Medica 2011, Siemens Healthcare has launched a donation campaign for "Doctors of the World" For every fifty Siemens ultrasound systems sold between October 1 and December 31, 2011, the company will donate one Acuson X150 to the humanitarian

organization.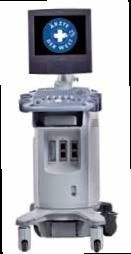 "Doctors of the World" helps people in crisis situations with 356 health programs in 78 countries all over the world. Besides providing help in emergencies, the international network focuses on finding sustainable solutions to long-term crises or in underdeveloped regions. The ultrasound units are being provided for projects in countries such as Cambodia and Tunisia, but also in Germany. The doctors in charge of the projects are even trained on the machines by Siemens prior to their postings. The first Acuson X150 will be used in the Ukraine to provide medical care to refugees and migrants without health insurance. At
Medica, the first system will be handed over to "Doctors of the World" on Friday, November 18, 12.30 a.m. During the campaign, which is running under the slogan "Zero percent that set a lot in motion", customers can purchase ultrasound equipment with zero-percent financing.
Siemens Healthcare is at MEDICA: Hall 10 . Stand A20
EH
2011@MEDICA
More on the subject:
More on companies: