Siemens presents its latest mobile X-ray system with a wireless detector
2011 Siemens launches Mobilett Mira, its first mobile digital X-ray system with a wireless detector. The detector sends image data via W-LAN to an integrated imaging unit and particularly facilitates examinations of patients that are critically ill and have only limited mobility. Moreover, a new, rotating swivel arm increases ease of use for the clinical staff. Mobilett Mira will be introduced for the first time at the European Congress of Radiology (ECR) 2011 in Vienna.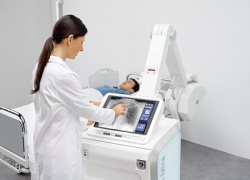 Mobile X-ray systems are frequently used in hospitals, particularly where patients cannot be moved into an X-ray room – as, for example, in the intensive care unit. Until now, these system's X-ray detectors that are placed directly under the patient and convert radiation into digital image information, are usually connected to the system via a data cable. This cable can impede the examiner, especially when positioning patients with limited mobility. Now, with the new mobile digital X-ray system Mobilett Mira, Siemens connects the advantages of mobile x-ray imaging with the flexibility of a wireless detector.
Mobilett Mira is one of the smallest mobile X-ray systems on the market and can be easily moved thanks to an integrated drive. The new detector provides a resolution of more than seven million pixels, delivering excellent image quality comparable to high-resolution stationary systems. The system works with very short exposure times beyond one millisecond, thus reducing the radiation exposition for the patient. Furthermore, Siemens redeveloped its mobile X-ray imaging swivel arm system for the new Mobilett Mira. In addition to vertical movements, the new swivel arm can now also be moved horizontally up to 90 degrees. This makes the preparation of the examination even easier. Moreover, the swivel arm integrates all electric connection cables that conventional mobile X-ray systems usually carry at the outside. In combination with the wireless detector, this makes
Mobilett Mira a fully wireless mobile system. Thus the system's utilization becomes not only more flexible and safer, but also more hygienic: Every cable on a medical device is a potential germ carrier and demands more time for regular maintenance and cleaning.
With Mobilett Mira, Siemens offers the first system on the market for mobile X-ray imaging that can be maintained and updated using remote monitoring. Via data cable or W-LAN, Siemens Remote Services (SRS) provides the system regularly with recommended software updates. Whenever required, a Siemens service engineer logs onto the system, can analyze failures and, for example, determine which spare parts are required on-site.

More on the subject:
More on companies: