Siemens introduces Tim and Dot
At this year´s RSNA Siemens Healthcare introduced a new generation of its Tim (Total imaging matrix) technology and its new Dot (Day optimizing throughput) engine. Both technologies are introduced in the new Magneton Aera 1.5 Tesla (T) and the new Magneton Skyra 3T scanners. These two new scanners are the first to incorporate both Tim and Dot technology. The combination of Tim and Dot delivers patient-centered care and improves productivity across the entire MRI workflow.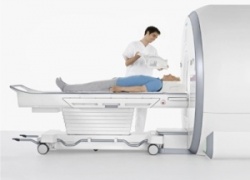 The Siemens-unique Tim technology was launched in 2003. Since then, more than 4,000 Tim systems have been sold. Tim 4G* is the latest version of Tim and the most advanced generation of coil technology. After conventional and array technology, Siemens pioneered Integrated Panoramic Array technology in 1997 and the Tim technology in 2003. Tim 4G is now the 4th generation, offering ultra-high-density coils, DirectRF and other features for improved flexibility, accuracy and speed. Tim 4G technology provides newly designed ultra-high density coils with an array of up to 204 coil elements that utilize up to 128 channels. As a result, the user will have enough channels to support imaging with ultra-high density coils, excellent image quality with high signal-to-noise is routine and high processing speed improves productivity even further. Additionally, without coil or patient repositioning the Tim coils allow covering the complete anatomy of the patient from whole body coverage (up to 205 cm) to smallest details.
With the advance RF solution, Siemens was able to focus on the productivity, across the entire MRI workflow, and thus developed the Day optimizing throughput (Dot) engine. Dot multiplies the power of its Tim technology, resulting in greater image consistency, improved diagnostic confidence, greater ease of use, and increased productivity.
Add to this the importance of highly optimized use of all resources 24/7, and productivity improves across every aspect of the clinical and business day. And this is where Tim and Dot come in. "We strive to be a part of the solution to the challenges in Healthcare today. Siemens is proud to welcome in a new era of MRI," said Walter Maerzendorfer, CEO of the Business Unit Magnetic Resonance, Siemens Healthcare. "Tim and Dot are the direct response to today's demanding world of healthcare economics. Together, they deliver faster, more efficient throughput for up to 30 percent more productivity per day."
MAGNETOM Aera (1.5T) and MAGNETOM Skyra (3T) – Transforming productivity in MRI "The pressure to control costs in the hospital environment, while still providing the best care, has never been greater. We are committed to continue investing in technology innovations that can play a role in improving healthcare efficiency," said Walter Maerzendorfer. "With the introduction of these revolutionary MR systems, our focus was on increasing the productivity of our customers and improving the experience of their patients."
Both systems provide 70 cm Open-bore design together with the innovations: Tim and Dot. Thus setting a new standard of efficiency, ease of use, and is designed to bring extraordinary value across the entire imaging process. Tim supplies the power needed for superb image quality, while Dot takes away the complexity inherent in MR scanning. The 70 cm Open-bore design of MAGNETOM Aera and Skyra can accommodate a large variety of patient sizes, shapes and conditions. The friendly and open appearance helps to reduce sedation rates, minimizes stress for claustrophobic patients, and leads to higher throughput and more referrals. And the super-short magnets allow many studies to be completed with the patient's head outside the bore while still supporting a full 50 cm FoV (45 cm in z-direction). Tim's new ultra high-density array, with up to 204 coil elements combined with a new RF design with up to 128 RF channels, leads to an enormous SNR increase. This enables high-resolution imaging that holds up even when zooming in on multi-station images.
The 3T MAGNETOM Skyra is also optimized with Siemens TimTX TrueForm design for unmatched B1 homogeneity. Clear, sharp images can be viewed with 50 percent more imaging volume and TimTX TrueForm provides the foundation for multi-channel transmit array capabilities at 3T.
In addition to Tim and Dot, both the MAGNETOM Aera and MAGNETOM Skyra come with Tim DirectConnect cableless coils and an optional Tim Dockable Table. The newly designed cover provides the illumination MoodLight allowing the color of the front panel to be freely chosen.

More on the subject:
More on companies: