Clinical Chemistry
Siemens Healthineers Unveils Atellica Solution at AACC 2016
Siemens Healthineers unveiled the Atellica Solution(1), a highly flexible immunoassay and clinical chemistry solution featuring patented bi-directional magnetic sample-transport technology that is 10 times faster than conventional conveyors.(1)The unveiling occurred during the 68th AACC Annual Scientific Meeting & Clinical Lab Expo in Philadelphia.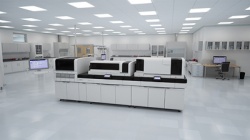 "We engineered the Atellica Solution1 based on our customers' needs and extensive research of market trends," said Franz Walt, President, Laboratory Diagnostics, Siemens Healthineers. "The result is a game-changer that delivers control and simplicity, so our customers can focus on driving better business and clinical outcomes and spend less time managing operations."
In addition to the speed afforded by the Atellica Magline Transport technology,1 the Atellica Solution1 offers a multi-camera vision system1 and intelligent sample routing1 for independent control over every sample from routines to STATs.
The Atellica Solution1 provides unprecedented flexibility to adapt to growing testing needs and space constraints. The solution can be used as a stand-alone system, is scalable up to 10 components and can be combined into more than 300 customizable configurations,1 including L-shaped, U-shaped, and linear formations. It can also be connected to Aptio Automation for a comprehensive multidisciplinary solution.1 The solution can handle more than 30 sample container types including pediatric and special containers.
Further, the same reagents can be used across configurations and locations, simplifying laboratory operations, streamlining inventory control, and enabling consistent testing results. Additionally, a single immunoassay analyzer processes more than 400 tests per hour,3 delivering the highest productivity per square meter in the industry.2
Other benefits of the Atellica Solution1 include remote-access monitoring and control1 to maximize uptime, and a broad, expanding assay menu1 using proven detection technologies.
The Atellica Solution1 is the first in a new line of Atellica products engineered by Siemens Healthineers and further innovations are in the R&D pipeline.
Source: Siemens Healthineers
1 Products are under FDA review. Not available for sale. Any features listed are part of the development design goals. Future availability cannot be guaranteed.
2 Versus leading IVD market competitors.
3 Dependent upon test mix.
More on the subject:
More on companies: