Siemens Healthcare without Erich Reinhardt
Erich Reinhardt, CEO of Siemens Healthcare, will resign effective April 30, in conjunction with compliance violations within Siemens' medical group. Reinhardt, 61, was not personally involved in the alleged corruption, according to Siemens' officials.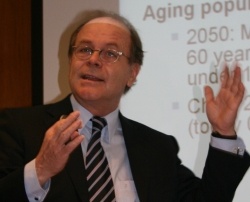 In a company announcement issued today, the resignation follows new findings from U.S. law firm, Debevoise & Plimpton, hired to investigate the former medical group, which was led by Reinhard since 1994. The firm uncovered compliance violations by employees; however, the company did not further elaborate on the specifics of those findings. Corporate-wide, approximately $2 billion between fiscal 2000 and 2006 is in question, with about $70 million under investigation within the medical division, according to
Bloomberg
.
The bribery scandal has plagued Siemens for 18 months, and Reinhardt is the senior- most casualty of the probe since the departure of CEO Klaus Kleinfeld last year.
Jim Reid-Anderson, 49, former CEO of the diagnostic division for Siemens Healthcare, will take over Reinhardt's post. Reinhardt will remain with Siemens as a consultant.
"I have the greatest respect for the clear decision made by Professor Reinhardt, whom I have known for many years and think of highly," Siemens CEO Peter Loescher said in a statement. "Once again, he is showing his exemplary sense of responsibility and leadership."
More on the subject:
More on companies: