Shining green - Seeing is believing
Report: Holger Zorn
Breast cancer is the most common form of cancer in women. Evaluation of the axillary lymph nodes is essential to insure complete cancer removal. Fluorescence imaging instead of radioisotopes is an innovative method for sentinel lymph node detection.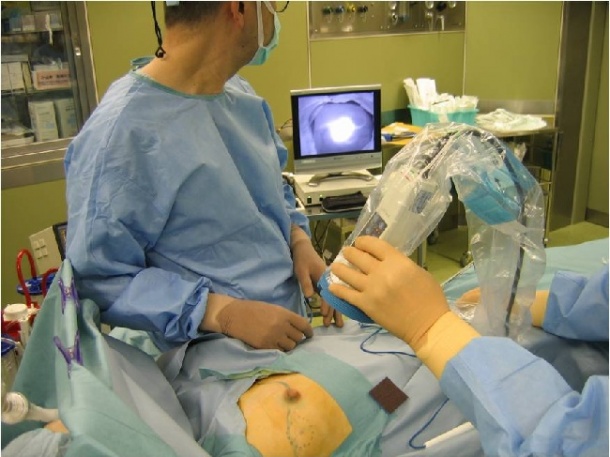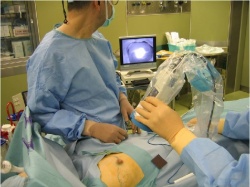 'Within the EU, every 2.5 minutes a woman is diagnosed with breast cancer,' said Stella Kyriakides, former President of Europa Donna, the European Breast Cancer Coalition, in 2004. 'Every 7.5 minutes a woman dies from the disease.' In 2008, an estimated 332,670 new cases of breast cancer occurred in the countries of the European Union [Source: Eur J Cancer (2010) 46:765-81].
To ensure complete removal of the cancer, and to find any metastasis, it is important to evaluate the axillary lymph nodes. In addition, their evaluation represents an important independent prognostic factor in patients with early breast cancer.
In 1993, David Krag from University of Vermont, Burlington, introduced sentinel lymph node (SLN) biopsy using a radioactive colloid. One year later, Armando Giuliano, from the John Wayne Cancer Institute in Santa Monica, California, followed by using a blue dye.
Actually, SLN biopsy is a standard method for evaluating axillary lymph node status in early breast cancer because of the high detection rate, low false-negative rate, and the avoidance of axillary lymph node dissection. Patients with a negative SLN have an improved disease-free and overall survival, resulting in an increased quality of life with reduced morbidity.
Radioisotopes are currently the standard tracers used to identify SLNs. However, their availability is limited at some institutions, the time interval from injection to operation varies, and a special gamma detector device is required for detection.
Fluorescence imaging using indocyanine green (ICG) and the photo dynamic eye (PDE) could represent a simple, effective and safe method for the detection of SLNs in patients with breast cancer. In 2005, Toshiyuki Kitai from Nara Social Security Hospital, Nara, has reported this novel method for that indication [Source: Breast Cancer (2005) 12:211-5].
ICG, also known as Foxgreen, has been used for more than 50 years for fluorescence angiography purposes in numerous medical fields, e.g. ophthalmology, microsurgery or neurosurgery, and as Cardiogreen for cardiac surgery. It binds immediately with a very high affinity to plasma proteins and is exclusively removed by the liver. The absorption and emission spectrum of ICG is in the near infrared range. It can be detected and quantified by optical procedures.
PDE is simple to use infrared camera system designed specially to observe ICG. Because of the physical properties of ICG, images can be obtained in tissue depth up to 1.5 cm. The images can not only be used to visualise SLNs, but are also useful for perfusion detection in plastic, abdominal, and vascular surgery, as well as for lymph oedema diagnosis and surgery.
For SLN detection the fluorescence method has four major advantages over the standard radioactive technique, says Anthony Harris PhD, Manager for Perfusion at Pulsion Medical AG: 'First, it works without radiation and its danger. Second, it can be applied directly in the operating room without preoperative scintigraphy. Third, it allows reliable identification and visual localisation of sentinel lymph nodes by ICG fluorescence. Fourth, lymphatic flow can be observed transcutaneously in real time, allowing pre- or intra-operative mapping.'
The technique is quite simple (pic. 2). Prior to the surgery, ICG is injected intradermally around the nipple. Ten minutes later, the PDE is used to observe the fluorescence of the ICG, thus to follow the lymph flow and visualise the SLNs around the tumour. The visual image helps to plan the surgery better and to avoid damaging lymph vessels. Further, the nodes can also be removed using fluorescence.
Dr Tomoharu Sugie, and co-workers from Department of Breast Surgery, Kyoto University Hospital, and two other institutes, have evaluated this novel method in 411 patients with early breast cancer and report a SLN identification rate of 99% (408/411) with a mean of 2.3 nodes identified per patient. Their conclusion: 'Thus, the ICG technique has a high SLN identification rate comparable with that of the radioisotope method' [Source: Cancers (2010) 2: 713-20].
Dr Nobumi Tagaya and colleagues from Dokkyo Medical University, Mibu, have used this technique in 50 patients with tumours < 2.0 cm not only for SLN identification but also for image overlay navigation surgery. They conclude: 'This combined navigation of fluorescence and 3-D imaging revealed more easy and effective to detect SLN intra-operatively than fluorescence imaging alone' [Source: World J Surg (2011) 35:154-8].
Diethelm Wallwiener, president of the German Society for Senology, is currently planning a study to compare the standard radioisotope method with the new fluorescence method. 'Should the two methods prove comparable', he states, 'then the fluorescence method could become the new standard'.
When the medical approval for the ICG dye will be extended to the indication SLN, the fluorescence method could lead to significant cost savings for hospitals and to improved safety not only for the patients but also the physicians.