R/F Digital
Shimadzu - Deep insights for extended applications
In the year of Shimadzu's 140th anniversary, new systems continue the company's tradition in diagnostic imaging providing innovative technologies and industry firsts.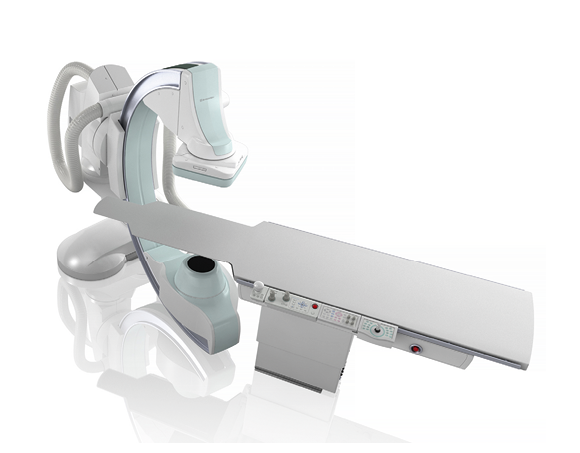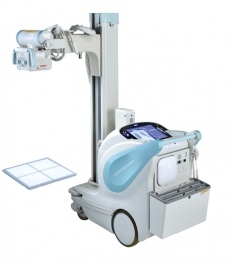 Vascular interventions from head to toe: Trinias angiographic system series
The Trinias angiography series are multipurpose systems for cardiovascular and angiographic procedures. The units are available in a floor- and ceiling-mounted version or as a biplane system.
Trinias is equipped with a 30 x 30 cm FPD supporting a wide range of vascular interventions from head to toe, from cerebral, cardiac, and abdominal blood vessels to peripheral blood vessels in the upper and lower extremities or, with a 20 x 20 cm FPD, supporting specialist cardiovascular interventions.

The Trinias series apply the SCORE, SMART and SMILE philosophy that sets Shimadzu apart:
• SCORE imaging technology ensures powerful support for advanced interventions while reducing patient dose and increasing image quality
• SMART design allows significantly enhanced operability with fast response time
• SMILE concept is primarily about comprehensive X-ray dose management and comfort of patients and operators.

Best-in-class: Sonialvision G4 multifunctional R / F system
The Sonialvision G4 high performance R/F table provides numerous best-in-class features significantly increasing its functionality and operability.
The Sonialvision G4 unites the widest possible range of examinations with inter-departmental hospital capability. It is equipped with the largest available FPD at 43 x 43 cm and Shimadzu's next generation digital imaging platform. Together with the large longitudinal stroke of Sonialvision G4, the FPD provides an extensive imaging area. In combination with an additional ceiling-mounted telescopic arm, a Bucky wall stand, and a second mobile FPD, the system easily extends into a sophisticated multifunctional R/F room.
In addition, advanced "SUREengine" technology (Shimadzu Ultimate Real-time Enhancement Engine) contributes to creating excellent image quality. It enables the natural enhancement of the entire image for clearer revelation of all examination areas including small, faint targets.

RADspeed fit (DR ready): best-in-class ­features for general radiography
The new RADspeed fit (DR ready) provides easy operability and extensive functionality for reducing exposure levels while supporting a wide range of general radiographic applications, such as chest, abdomen or extremities, and including emergency examinations. Furthermore, it can be combined with a digital or analog image processing system, making it ideal as an entry level digital radiography (DR) system equipped with a digital X-ray detector (FPD) or even complementing an existing CR or DR environment.
New product features include:
• highest image quality in its class
• highest weight capacity in its class
• smooth examination process
• an option for reducing the X-ray dose.

Mobile X-ray applications: evolving technology with outstanding flexibility
The new X-ray unit MobileDaRt Evolution EFX can be moved to any location where radiography is required, enabling on-site examinations and image verification. Capitalizing on the merits of efficiency and high throughput, this digital mobile X-ray system, which is equippable with differently sized wireless flat panel detectors (FPD), broadens its applications from clinical rounds in hospitals to critical care and applications at disaster sites, as well as operating rooms and neonatal intensive care units (NICU).
The choice of three detectors (42 x 43 cm, 35 x 43 cm and 27 x 35 cm) provides superior flexibility for users. They combine high sensitivity with the lowest possible dose of radiation and provide sharp high-quality images in areas such as radiology, emergency rooms, traumatology, orthopaedics, paediatrics, or on the ward.
New features improve safety as well as processing speed, and save energy:
• Vibration-resistant DR unit
• adopting a high-speed solid-state drive (SSD), thereby reducing the risk of data loss
• Energy saving collimator with a bright irradiation field through LEDs
• LCD monitor with a wide viewing angle around the unit
• FPD contributing to improved procedural efficiency.

Opescope Acteno: C-arm with high operability and image quality
The Opescope Acteno surgical C-arm combines high image quality with ease of use. The system enables free and easy positioning and optimal performance to meet the demands of operation and emergency rooms. The fully counter-balanced C-arm provides extra-light and quick C-arm movements and positioning. The exclusive manual vertical C-arm movements enable much quicker height adjustments in routine operations.
Shimadzu's unique C-arm lock / release button at the image intensifier allows the C-arm to be positioned from the clinician's side without the need to go back to the cart unit. The enlarged 78 cm wide opening of the C-arm facilitates approaches to the patient, minimizing the risk of contact with the operating table.
Visit us at ECR 2015 in Vienna, Austria
4-8 March 2015, Expo C, stand 325
For more information, please visit www.shimadzu-medical.eu/
More on the subject:
More on companies: