Shimadzu combines two vital strengths to create new molecular imaging technologies
Molecular imaging, a new science that emerged from molecular biology, is unlike traditional imaging. Whilst the latter can, for example, show the differences in proton density or water content on MRI, molecular imaging uses biomarkers (probes) that interact selectively with molecules within an area and then generate the image according to fine molecular alterations occurring inside (e.g. within a tumour).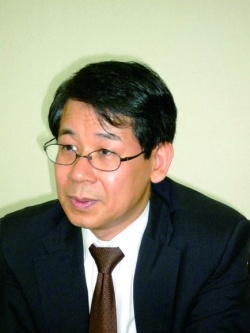 Along with the non-invasive visualisation of molecular or cellular processes in living subjects, this new technology is promising for gene function imaging.
Naturally, since all this engenders huge hopes for early diagnosis and more precise treatment assessment -- as well as drug discovery -- international medical technology and pharmaceutical firms are racing to develop the tools needed for molecular imaging. Among them is Shimadzu, of Kyoto, Japan, which arrived in the field armed with the combination of two rare strengths: analytical and measuring technology and medical imaging. Unlike other large medical equipment manufacturers that expand by acquiring firms with complementary capabilities, in 2006 Shimadzu simply consolidated its Advanced Biomedical Business Development Group with its Corporate Strategy Planning Department, thus developing a new generation medical business to generate new ideas. 'Shimadzu,' explained Koji Shimizu, the firm's Senior Manager of Corporate Strategy Planning Department, 'will focus on the research of biomarkers, molecular probes and imaging devices in its pursuit of molecular imaging that will support early diagnosis and drug discovery. This is our ambition for the future.'
Molecular imaging can turn the function of genes, cellular proteins and living cells into images
Molecular imaging technology turns into images the function of genes, proteins, and also cellular processes in living subjects. We have great hopes that molecular imaging will be widely used for early diagnosis, effective treatment assessment and drug discovery.
Molecular imaging first of all must search for biomarkers*1, target molecules such as cancer receptors. Then, the molecular probes*2 must be developed to bind to the target molecules. In turn, equipment must be developed to visualize the molecular probes.
We Shimadzu are focused on R&D in these three areas. Shimadzu's particular objective is to contribute to human healthcare through science and technology.
Mass spectrometry
The firm's has an additional advantage. In 2002, Shimadzu engineer Koichi Tanaka won the Nobel Prize for Chemistry for his development of Matrix-assisted laser desorption/ionisation (MALDI) that allows the ionisation of biomacromolecules. 'In the search for biomarkers it is important to analyse the expression of proteins responsible for cellular function. Mass spectrometry is now an essential tool in proteomics (study of proteins) and metabolomics (study of metabolites) and is a huge aid in the search for biomarkers,' Koji Shimizu explained. 'Using a world class mass spectrometer, we have identified several new candidate cancer biomarkers. The leading-edge microscopic mass spectrometer under development at Shimadzu aims to ionise biomacromolecules of a tissue section under normal atmospheric pressure and to provide images of the section's molecular structure at a resolution of five micrometres. It holds promise as an effective instrument in the search for new disease-specific biomarkers. Also in the field of molecular probes, joint research with Kyoto University is underway into nanoparticles that would serve as carriers for molecular probes.'
PET and near infrared imaging devices
In the development of molecular imaging devices, we are concentrating our efforts on PET and near infrared imaging. Our research into PET began in 1979, ahead of most of the world. Today, we are the sole manufacturer of clinical PET in Japan. Exploiting its technology and know-how, Shimadzu had developed and commercialised small animal PET for laboratory animals used in basic medical research and drug discovery. Using this, a contract analysis business for drug discovery had also been launched in cooperation with Hamamatsu Photonics.
Meanwhile, Shimadzu is pursuing further development of the clinical PET. If the detector is too thin, the gamma rays measured by PET pass through and, if too thick, the image resolution is poor. To solve this problem, we developed a new PET detector under a NEDO (New Energy and Industrial Technology Development Organisation) project. The new detector has multiple layers of detector elements. The smaller the element the weaker the signal; therefore, what we need is advanced technology that can realise both high sensitivity and good resolution.
Shimadzu is also developing sophisticated PET equipped with this new detector system. The first target is high-sensitivity PET mammography for breast cancer screening that promises to improve the diagnostic sensitivity and specificity – screening, he pointed out, is painless. Working with cooperation from a Japanese underwear manufacturer, the detector system is optimally designed to cover the different breast shapes. Last November, Kyoto University Hospital began clinical research on the device. Further clinical evaluation will tell us the optimal combination with other screening methods, he said.
The firm is also developing imaging devices using NIRS (near infrared spectroscopy). Ordinary light does not penetrate living tissue, but near infrared light of about 800 nm wavelength -- longer than optical light -- can reach relatively deep inside living tissue. It is known as the 'optical window' to living tissue. In the mid-1980's Shimadzu began using NIRS in research on living organisms and now is producing an fNIRS (functional NIRS) imaging system for the market. Unlike PET or MRI, fNIRS permits the measurement of brain activity even in subjects walking on a treadmill. It's not molecular imaging, but does hold promise, for instance for monitoring neurologic rehabilitation. In future, it may also be applied in brain-machine interfacing, directly extracting information from the brains of severely disabled people to enable them to operate machines.
Near infrared technology is also being applied to molecular imaging. Shimadzu is developing a high-performance fluorescence imaging system for small animals, which maximises the properties of near infrared light and enables simultaneous observation of the subject from multiple directions.
Today, Shimadzu is an impressive player in the most-advanced imaging stage technology field – tomorrow, the firm promises to be even more so.
More on the subject:
More on companies: