ShearWave Elastography is relevant in diagnosis, staging, and prognosis for liver fibrosis
Across the globe, up to 400 million people carry the hepatitis B virus, and more than 180 million – approximately 400,000 in France – are infected with the hepatitis C virus.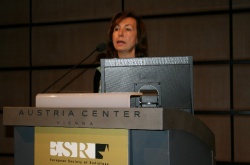 A technology recently developed by ultrasound specialists SuperSonic Imagine, called ShearWave Elastography, allows to measure tissue stiffness in real-time, and has been demonstrated to be effective in the visualization of the different stages of fibrosis leading up to cirrhosis. It could impact the diagnosis and treatment of these and further liver diseases.
The integration of elastography into ultrasound machines has brought manifold benefits to diagnostics, summarized Prof. Valérie Vilgrain, MD, at ECR 2013. Whereas previously dedicated devices were used to perform this method, multi-parametric analysis during one single session is now being made possible by, e.g., SuperSonic's Aixplorer system, underlined the Chairperson, Department of Radiology, Hôpital Beaujon, Clichy/France. This Sorbonne University hospital is a centre for rare and complex diseases of the abdomen, including conditions of the liver.
Radiologists benefit from all-in-one examinations
When patients are examined regularly for malignant tumours, and lesions are discovered, contrast-enhanced ultrasound and biopsy may be applied; in the same session, elasticity can be measured by integrated systems. Staging of fibrosis is done from F1 to F4, which means cirrhosis; tissue stiffness increases as the disease progresses. Information about elasticity, in addition to information about infection or lifestyle depending on the liver disease, is essential in monitoring and managing patients, explained Dr Vilgrain.
Non-invasive approaches to tissue elasticity measurement include, e.g., transient elastography and force impulse; however, ShearWave elastography stands out because it provides pure quantitative information, according to the expert. Studies have shown good to excellent consistent results for sensitivity and specificity as well as for intra-patient agreement and applicability. The method could help to reduce biopsies.
The evaluation of liver fibrosis based on elastography has become very reliable and reproducible, added the expert; further indications are being developed "in order to better characterize the factors responsible for liver stiffness and to predict the severity of chronic liver disease."
by Michael Reiter

More on the subject:
More on companies: