Sectra highlights the latest developments
At ECR 2012, Sectra will highlight the latest development within its product suites with the main focus on how radiology can increase their service to referring physicians thereby becoming number one for their customers in increasingly competitive and challenging environment.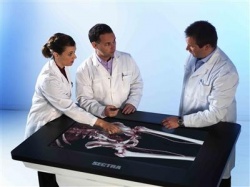 Radiology IT solutions

Sectra Referring Physician Suite features products and services for top-of-the-line service to referring physicians.
Sectra RIS/PACS access offers referring physicians all the functionality they require, including on-line ordering, full access to reports and images and easy-to-use imaging tools such as pre-operative planning tools and volume visualization. Extensive HIS/EPR integration provides a single point of entry to complete patient overviews in EPR, including thumbnails of both radiology and non-radiology images.
Sectra Diagnostic Imaging Suite features Sectra's RIS/PACS solution optimized for efficient radiology workflows. Sectra Diagnostic Imaging Suite significantly increases efficiency by coordinating all components of enterprise workflow thereby speeding up image distribution and report turnaround time to improve the service level to referring physicians and increase referring volume.
Sectra Breast Imaging IT suite streamlines mammography workflows within high-volume screening and advanced diagnostic mammography thereby decreasing report turnaround time.
Sectra Cross Enterprise Suite features products and services to facilitate cooperation between multiple sites. Sectra will showcase an advanced, future-proof solution for cross-enterprise image sharing built on XDS-I. Full patient history from all connected enterprises is available as if it were a single RIS/PACS system. Apart from images, all existing reports are also shared.
Sectra Visualization Table - A 46-inch medical multi-touch display enabling multiple users to interact collaboratively and simultaneously with the real-size 3D images generated by CT and MRI scanners to gain deeper understanding and insight into the functions and processes inside the body.
Sectra Osteoporosis solution
Sectra OneScreen
Sectra OneScreen is a cost-effective online solution to identify patients in the risk group for osteoporosis. The service is especially convenient in combination with mammography. With a single, standard X-ray image of the hand the women's bone health (Bone Mineral Density, BMD) is estimated, using the patented DXR (Digital X-ray Radiogrammetry) technology. The image is taken at the same time as breast images, using the same radiology equipment. It is then sent to Sectra's online lab for analysis. With the BMD result and other known risk factors, individuals with increased risk of future fractures can easily be identified.
More on the subject:
More on companies: