Sectra enters the Greek market
The Swedish IT and medical-technology company Sectra has signed a distribution agreement with the Greek company Proton S.A., a provider of medical imaging and security systems based in Athens.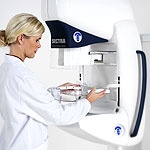 Through this partnership, Proton becomes a distributor of Sectra's medical systems in Greece and Cyprus. The agreement includes all of Sectra's products within medical systems.
"With Proton's large customer base within radiology and existing sales and service network, we could not look for a better partner," says Torbjörn Kronander, President of Sectra Imtec AB. "Proton has solid experience with products similar to Sectra's, and this will significantly reduce the time for us to gain traction in the Greek market," he continues.
In the near term, Proton will focus on sales of Sectra's digital mammography system, Sectra MicroDose Mammography and Breast Imaging PACS (Picture Archiving and Communication System). The market for digital mammography in Greece is rapidly growing, with an increased awareness of the benefits of mammography in general and low-dose mammography in particular.
"The demand for digital mammography is growing in Greece," says George Papaetis, President of Proton S.A. "With Sectra MicroDose Mammography, we can provide our customers with a highly efficient solution for mammography screening, at half the dose of competing systems. Moreover, we are positioning ourselves well for the expected increase in digitization of radiology, with an outstanding PACS solution in our offering," he adds.

More on the subject:
More on companies: