New Technology
Scanning technically difficult patients (TDP)
A new system, with wider bandwidth due to single-crystal technology combined with 3T technology, gives greater penetration and higher resolution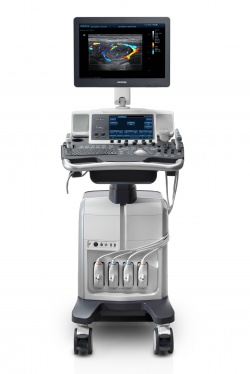 As the global prevalence and severity of obesity increases day by day, the challenge for physicians to scan for deep structures and abnormal haemodynamic flow becomes greater when faced with limitations in ultrasound imaging. Mindray's new DC-8 Exp, an advanced ultrasound imaging solution, is dedicated to minimising those limitations and maximising the effectiveness of scanning difficult patients.
'Based on the company's new generation mQuadro ultrasound platform, the DC-8 Exp brings together a new set of innovative solutions to enhance the experience of conducting an ultrasound exam and providing a confident diagnosis for patients across all ages and body types,' the firm says. 'The industry's very first ultrasound system to implement a deep vascular detection solution, the DC-8 Exp incorporates a combination of outstanding processing capabilities, featuring Mindray's proprietary transducer technology and user-defined interface that enables an expert diagnosis.'
Powerful imaging capability
'mQuadro, Mindray's high end ultrasound architecture, empowers the DC-8 Exp to facilitate a fast and reliable diagnosis, making it the optimum choice for examination of Technically Difficult Patients (TDP),' the firm adds.
'The new single-crystal technology combined with 3T technology provides a wider bandwidth that gives both better penetration and higher resolution resulting in the best possible scanning solution for TDP.
'Moreover, the new matrix-array transducer technology uses multiple rows of crystal to help achieve superb resolution of detail throughout the field of view.'
The next level of diagnostic confidence
With the DC-8 Exp, ultrasound practitioners now have the power to handle a comprehensive range of clinical exams easily, including abdominal, cardiovascular, OB/GYN, and small parts, and to obtain extraordinary image quality even on difficult patients. The DC-8 Exp benefits from inventive ART Flow technology for better display of hard-to-detect deep blood flow, and advanced Echo Boost technology for intelligent image optimisation across multiple applications. 'The new architecture-based technology UWN+ Contrast Imaging and Natural Touch Elastography provide enhanced information for more effective diagnosis,' the firm notes.
A wide variety of sophisticated analysis tools including TT QA/LVO/Stress Echo also enhance accuracy and confidence of CD assessment.'
A new effortless experience
'A series of high-level automation tools significantly improve productivity. The intelligent auto-optimisation Smart Doppler tool enables rapid adjustment of colour, PW placement, and angle steering, while auto-measurement tools help the ultrasound specialist to work smarter with less operational fatigue,' Mindray adds, and explains: 'The fully customisable iWorks greatly reduces keystrokes and improves exam efficiency, all of which combine to allow more focus on the patient diagnosis.
Details: www.mindray.com

Mindray is at Medica
Hall 09 / Stands A74 and A78

More on the subject:
More on companies: