RSNA Mobile Computing Devices
Within many exhibitors' booths at the RSNA, mobile computing devices are in use, a sales tool augmenting the vendor's display. They are like bunnies running rampant. They are proliferating, and their intelligent use is aiding complex sales presentations.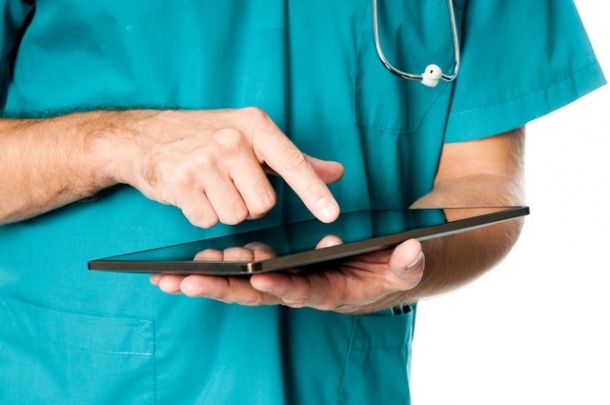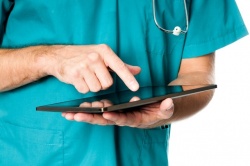 Mobile tablets and smartphones are expected to become integral tools for radiologists and specialists who review diagnostic images. It's just a matter of time. A Monday morning-long RSNA 2013 scientific session added to the evidence that tablets in particular may be an acceptable substitute for interpreting many types of imaging exams.
Bone fractures
Radiologists at Hygeia Hospital in Athens reaffirmed that mobile tablets are useful for the diagnosis of bone fractures. Dr Spyros D. Yarmentis, director of radiology, and his colleagues undertook a retrospective study of 78 consecutive trauma cases, most with multiple images. The cases included a mix of injuries to the head, the spine, the rib cage, and upper and lower extremities. A total of 35 fractures were identified.
The DICOM images were anonymized and reviewed by two attending radiologists and two residents. They interpreted the cases on a diagnostic workstation and on a non-retina display Apple iPad2 containing DICOM images in a compressed 1263 x 1536 matrix. Interpretation performance using each device was comparable although misdiagnosis was slightly higher when using the iPad and radiologists' interpretations were slightly more accurate than those of residents.
"This study shows that tablets will play an increasingly important role in the radiographic detection of bone fractures," said presenter Dr Maria T. Tzalonikou. She and her colleagues are confident that iPads can be used in emergency departments to identify fractures, as well as for remote consultation with physicians.
Emergency CT exams
The Apple iPad hasn't been approved in Germany for image interpretation, but Dr Susanne Tewes and colleagues from the department of diagnostic and interventional radiology at Hannover Medical School are hopeful that this will change. They believe that an iPad 3 with a high resolution display is appropriate to use when making preliminary interpretations of emergency CT exams.
In a retrospective study, three radiologists interpreted 40 cardiac CT scans (CCT) and 40 CT angiography scans of the pulmonary artery (CTPA) using a dedicated 3D PACS workstation and the iPad. They wanted to compare how well radiologists could detect early signs of infarction in the CCT images and segmental/sub segmental pulmonary embolisms in the CTPA images. They determined that there were no statistically significant differences in interpretation between the two display modes and that interobserver variability was minimal.
What are issues are the lighting conditions when using a tablet and the limited space to display images on a tablet. Inconsistent and difficult to standardize environmental conditions are of concern. And while individual CT images display nicely in the tablet format, PACS workstations with large multiple monitors win out for comparative analysis.
Mammograms in a pinch
Korean radiologists from the Seoul National University Bundang Hospital in Seongnam presented an interesting study to determine if a mobile device could be used as a display tool for specimen mammography interpretation. Five radiologists participated in the study. Each radiologist was asked to measure the shortest distance from the lesion to the margin lesion of 78 consecutive breast cancer mammography cases.
They determined that three different tablet devices were comparable to a 5-megapixel diagnostic quality LCD monitor, and could be used if the diagnostic display monitor was not available. However, the PACS mammography display monitor is the preferred viewing source.
by Cynthia E. Keen