Robot moves steadily in on catheter ablation
Sensei Robotic Catheter System installed in London
The Sensei Robotic Catheter System, a first generation robotic platform launched by Hansen Medical at the USA's Heart Rhythm Society Scientific Sessions in May this year, is in use in Europe.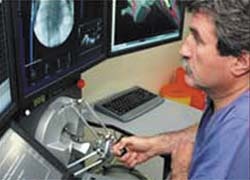 St Mary's Hospital, in Paddington, central London, became the World's first centre of excellence for training in and development of the system, under the guidance of consultant cardiologist and electrophysiologist Wyn Davies MD FRCP FHRS. As of July, over 20 atrial fibrillation patients had been operated on at St Mary's using this robotic surgical aid controlled by the surgeon at a nearby workstation.

The Sensei system and Artisan catheter aim to enable physicians to easily and accurately place mapping catheters in hard-to-reach anatomical locations within the heart with stability, during the diagnostic phase of complex cardiac arrhythmia treatment, Hansen reports.

'The new robotic system allows the operator to perform EP procedures in a more consistent fashion, which I believe will lead to the development of a standard approach for complex diseases,' Wyn Davies observed.
Currently, the majority of clinicians manually guide catheters through the heart to detect and treat a variety of cardiac arrhythmias. This technique requires physicians to perform a series of complex manipulations at one end of the catheter without assurance that the tip of the catheter will respond as desired when inside a patient's heart. Achieving stable contact at anatomic sites within the heart, which is essential for successful mapping procedures, can be difficult, Hansen points out. 'As a result, insufficient contact between the catheter tip and the inside of the heart wall can lead to highly variable and less than optimal procedure results for the patient. Hansen Medical believes its robotic platform overcomes these hurdles and will enable physicians to perform procedures that historically have been too difficult or time consuming to accomplish routinely with existing manual technique.'

The system
The Sensei system is compatible with fluoroscopy, ultrasound, 3-D surface map and patient electrocardiogram data. The two main components that comprise the system are the Artisan control catheter and an ergonomically designed, remotely-placed workstation where the physician sits throughout the procedure. In addition to lessening operator fatigue, the remote workstation creates a virtual shield for physicians against harmful radiation, Hansen added. 'The open architecture provided by the Sensei system, which allows the use of pre-approved catheters
from third-party manufacturers, requires a labelling addition from the FDA. The addition is intended to remind physicians that the safety and effectiveness of the system for use with cardiac ablation catheters in the treatment of cardiac arrhythmias, including atrial fibrillation, have not been established. The Sensei system has received CE mark approval in Europe, and the Artisan Control Catheter is currently pending CE mark approval.'

For many patients, a catheter ablation is the most effective way of treating AF; however a shortage of clinicians able to perform these complex procedures contributes to thousands living with the condition and its associated risks. In the UK alone, over 50,000 people develop AF annually, yet fewer than 10% undergo catheter ablation.

St Mary's, which runs one of the UK's busiest cardiac centres, is now one of only four hospitals globally that are using the Sensei robot. Wyn Davies said it has 'enormous potential to help deliver difficult catheter ablation procedures'. Pointing to the shortage of expertise in the UK, which means there are too few centres where highly complex cases can be carried out, he added: 'With further development that we are already embarking on, this robot will enable complex procedures to be carried out almost automatically, increasing the opportunities to treat more patients and ultimately reducing clinical risk. The robot allows accuracy and control of catheter movement which cannot currently be achieved without a skill level that usually takes considerable time to acquire. We are thrilled that St Mary's cardiology unit has been able to pioneer this exciting advance. With the other surgical robotic programmes already established at the hospital, St. Mary's is a world leader in robotic medicine.'

Although capable of use in all forms of ablation procedures, Hansen reports that the robot will predominately be used for complex ablation procedures to treat atrial fibrillation.

The Czech Republic and Germany
Another chosen centre of excellence is the Cleveland Clinic Foundation in Ohio, where the system is being used under the guidance of Andrea Natale MD, who is director for the Centre for Atrial Fibrillation, director of the Electrophysiology Laboratories and head of the Section of Pacing and Electrophysiology there. She had used the Sensei system during clinical evaluation on 25 patients in the Czech Republic and Germany. 'The stability of the Artisan catheter allowed us to perform catheter mapping procedures more efficiently and effectively,' Dr Natale said. 'The incorporation of the Sensei system and catheter did not add time to the procedures, nor did it require increased radiation time, as would normally be expected with new technology. As a result, I'd expect this new system to become the medical standard for performing complex EP procedures, which are currently limited to those individuals with the highest level of skill.'
---

St Mary's NHS Trust, which was awarded a 'good' performance in the 2006 NHS performance ratings, has 3,600 staff that provides specialist care for women's health, cardiology, children's services, infection and immunity and robotic surgery. The Trust reports that it has one of the lowest mortality rates in the UK, and a 'rich history of research, development and teaching thriving today through the relationship with internationally renowned university partner, Imperial College London'.
Dr Wyn Davies set up the electrophysics department at St Mary's and also has been praised by the British Medical Association for initiating a 'day return' cardiac treatment service in 2001. With this service, patients receive treatment during a day and return to their local hospital that evening. This has shortened waiting times for beds to become vacant for their potentially life-saving operations. In addition, he pointed out that returning to their local hospitals mean relatives and friends can visit more easily.