Renal denervation
Hope or hype in hypertension? Cardiologists remain cautious
A new procedure may help people with persistent hypertension. By burning or ablating the nerves in the renal arteries, blood pressure levels can be reduced significantly.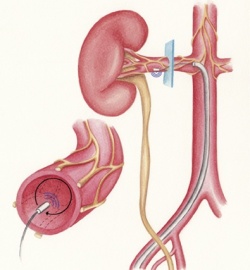 Can we hope? If true, this promising procedure would mark a breakthrough. The medical and social burden of arterial hypertension is staggering, contributing to two-thirds of all cases of stroke and half of all cases of heart disease. Or is it hype? To date there is no evidence high BP simply disappears by waving a magic wand. Here are two reports on the medical miracle called renal denervation offering the perspectives of clinicians and industry.
Clinical point of view: Rising tension in hypertension therapy
With two in three over 60-year-olds suffering arterial hypertension, this is among the commonest chronic diseases.
Drug treatment results in only 5-17% of those patients achieving their target levels. However, in about the same percentage of patients conventional treatment fails despite good compliance and the administration of three, five or even more antihypertensive drugs. Their blood pressure (BP) readings often remain much above the level of 140/90 mmHg set in the current ESH/ESC guidelines – an incentive for the development, trial and evaluation of different therapies.
The two most important new developments being discussed are presented below: renal sympathetic denervation and baroreceptor stimulation. While the former is already an established procedure – particularly in Germany where almost half of all interventions are performed – the latter is frequently accompanied by severe adverse effects but is nevertheless considered very promising by many cardiologists.
Renal sympathetic denervation
The debate around renal sympathetic denervation (RDN) is as hot as the procedure itself, which involves heating up the renal arteries intravascularly in several places for a maximum of two minutes focally to up to 70 degrees Celsius to denervate the sympathetic nerves in the adventitia of the arterial walls.
The kidneys not only control the circulation volume but also release a hormone, renin, which affects the constriction of the blood vessels and the heart frequency via the renin-angiotensin-aldosterone system and is therefore a cause of the development and persistence of arterial hypertension. The entire procedure requires just one puncture of the femoral artery, normally takes less than an hour and is carried out under fluoroscopic guidance.
The European Society of Hypertension (ESH) calls these results 'promising' and has decided to revise its guidelines, which had been jointly developed with the European Society of Cardiology, 'since numerous studies have been published over the last year providing more data about the rationale, therapeutic efficacy and safety of RDN' (Source: EuroIntervention. 2013 May 22;9 Suppl R:R58-66).
Symplicity HTN-1 and HTN-2
The feasibility of the procedure was demonstrated by three Australian and two European hospitals, including the Cardiovascular Centre at the Sankt Katharinen Hospital in Frankfurt and the Jagiellonian University in Krakow, under the direction of Professor Henry Krum at the Centre of Cardiovascular Research and Education in Therapeutics, Monash University, Melbourne, Australia.
Forty-five patients taking an average of 4.7 hypertensives, with a mean BP of 177/101 ±20 /15 mmHg and rated as treatment-resistant, underwent RDN between June 2007 and November 2008. Their mean BP fell by 14/10, 21/10, 22/11, 24/11 and 27/17 mmHg after 1, 3, 6, 9 and 12 months (Source: Lancet 2009; 373: 1275–81). During an extended follow-up observation over a 24-month period BP also did not rise again – reason enough for the authors to believe that once the nerve fibres have been denervated they do not regenerate and no new ones are being formed; the antihypertensive effect therefore works in the long-term (Source: Hypertension 2011; 57: 911-7).
Between June 2009 and January 2010, 106 patients, whose BP remained at a mean of 178/96 mmHg despite the administration of a median of 5.3 antihypertensive drugs, were included in the following, prospective randomised controlled study; 52 of these patients were treated with renal denervation and showed a significant decrease in BP by 32/12 mmHg after six months. Every fifth patient was able to reduce the number or dose of drugs taken. However, BP amongst the 54 members in the control group did not change. Three hypertensive events occurred in the treatment group and two in the control group (Source: Lancet 2010; 376: 1903-09).
In a clinical study at the Saarland University Hospital, 600 patients – the largest cohort worldwide –were examined. Dr Felix Mahfoud, physician at the Clinic for Internal Medicine III, University Hospital, and ardent supporter of the procedure, is convinced that the pathophysiology is correct. 'We do know that the vegetative nervous system is overactive in patients with hypertension. When medication no longer offers a promising option, RSD is an interesting therapy approach. However the patients selected for the procedure have to fulfil certain conditions, as described in the guidelines recently published by the European Society of Cardiology.' According to these guidelines, RSD is indicated for truly resistant hypertensive patients, while patients with organ-related hypertension, impaired renal anatomy, e.g. due to a stenosis or impaired renal function, are excluded. 'The data that are available today, which were collected worldwide, are very promising. We now need further studies that corroborate the initial results,' Dr Mahfoud said. Nevertheless he recommends the procedure for the time being to be limited to medical centres with research capabilities where patients receive systematic follow-up.
The industry: Slowed by hyper-resistant doctors
As fast as the first device for renal denervation received a CE mark in 2010, the pioneering company Ardian was immediately snapped up by medical technology giant Medtronic. With great fanfare the procedure was introduced the following year at EuroPCR, the largest gathering of interventional cardiologists in Europe.
Six million people in Europe suffer from persistent hypertension, unable to bring their systolic BP below 160 millimetres of mercury. Some take three or four different medicines every day, but the condition can resist this drug-based therapy.
The potential for treating such a large population was neither lost on cardiologists nor on other medical technology companies. This year at EuroPCR six new devices for renal denervation were presented, all with the CE Mark, ready to be sold to hospitals.
Yet market leader Medtronic has fallen far short of sales targets. Despite a large footprint covering 70 countries, the company shipped less than half the number of devices it expected to ship. It turns out that physicians are as resistant as the hypertension of their patients. Doctors want to see proof of the claim that charring nerve endings in the renal artery is an effective, safe and sustained treatment for this chronic condition.
Justin Roberts is arguably the point man out on the bleeding edge of this innovation in medical practice. The Senior Director for Renal Denervation Global Market Development for Medtronic, he shared some of the lessons learned in pushing adoption of renal denervation. He commented: 'There are people who believe this is a billion-dollar market; that if they push a magic button patients will suddenly come raining down from the sky,'
The biggest challenge is not the technology, not the next shiny toy, he added, pointing to the growing number of competitors on the exhibition floor at EuroPCR. Instead the challenge is to build clinical evidence to convince very conservative referring physicians.
Medtronic is turning its investment in renal denervation to a clinical programme aimed at building what the company hopes will be a substantial body of evidence.
Enrolment was recently completed in an ambitious pivotal clinical trial in the USA of the Medtronic Symplicity renal denervation system for treatment-resistant hypertension. Data from this trial is expected to be a significant component of an unusual and rigorous parallel review by the USA's Food and Drug Administration (FDA) and the Centres for Medicare & Medicaid Services (CMS) that could lead to approval and reimbursement.
Meanwhile, Justin Roberts believes that companies also need to help build expertise in this new field to win the confidence of referring physicians.
Renal denervation centres capable of appropriately screening patients need to be built, he pointed out. 'Hospitals, even with reimbursement, will continue to operate with very tight budgets. They need to decide if they want to open a service line for renal denervation. These decisions will vary by country, by local guidelines.'
St. Jude is a fast-follower for both technology and clinical trials for renal denervation. More than 5,000 patients will be studied in a robust portfolio of studies in collaboration with a multi-disciplinary physician advisory board as part of the EnligHTN Clinical Evidence Development Strategy. It is the brand name of St. Jude's device for the renal denervation procedure.
The portfolio of related studies represents a significant investment in building clinical evidence that will culminate in EnligHTNment. This landmark work is expected to be the largest randomised renal denervation study ever undertaken with a primary endpoint of major adverse cardiac outcomes and secondary endpoints to include reduction in office and ambulatory BP measures, changes in renal function and cost-effectiveness measures.
Bogged down on the long road to building evidence for renal denervation, Medtronic and St. Jude have lost the first-to-market advantage as more companies roll out new devices.
The technical barriers to entering the renal denervation competition are relatively low. Most companies already have some kind of device for ablation and adapting it to the renal arteries is quickly done.
All the firms will need to conduct clinical studies, but these will be small efforts focused only on proving that their new device is safe for use. For clinical evidence of effectiveness the new players will need only point to the evidence published by Medtronic and St. Jude to win over physicians.
While some new devices are based on follow-the-leaders technology, innovation in the pipeline may prove to make a difference for patients in the long run.

Another option: Baroreflex stimulation
Anne Carlsten, a physiologist at the University of Gothenburg, researched the treatment of depression through electric stimulation of the nerves in the carotid sinus and discovered that this also has a cardiovascular effect (source: Act Physiol Scand 1958; 44(2): 138-145).
Baroreflex activation therapy (BAT) stimulates the parasympathetic fibres of the vagus nerve, lowering heart frequency, stroke volume and BP. Electrodes are placed either side of the carotid artery under general anaesthetic and then connected to a pulse generator, which – like a pacemaker – is implanted below the collarbone.
The feasibility study carried out in the Netherlands, Germany, Switzerland, the Czech Republic, Poland and Latvia, under the direction of the Cardiocvascular Research Institute Maastricht (CARIM), included 45 patients with therapy-resistant hypertension whose BP prior to the intervention was a mean of 179/105 mmHg, with a heart frequency of 80/min and a median of five antihypertensive drugs taken.
Three months after the implantation of the Rheos system manufactured by CVRx Inc. of Minneapolis, BP was lowered by a mean of 21/19 mmHg and, after two years, by a mean of 33/22 mmHg in 17 patients who continued with the trial. However, almost every fifth patient suffered severe complications such as stroke, glossoplegia, infection or device displacement (source: J Am Coll Cardiol. 2010;56(15):1254-8).
Although the randomised, placebo-controlled clinical trial of 265 patients did not show a significant acute responder rate in the group receiving baroreflex stimulation, it did show a significant sustained responder rate (source: J Am Coll Cardiol 2011; 58(7): 765-73) – enough potential for future debate.