Pulsion and Philips Healthcare enhance their strong partnership
Pulsion Medical Systems and Philips Healthcare are two strong brands. Pulsion, one of the leading specialists for intelligent medical diagnosis and therapy management systems, now announced the extension of the alliance with Philips. Among other things the agreement will contain the integration of further Pulsion-technologies into the Philips patient monitoring systems.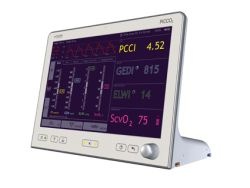 Pulsion Medical Systems AG, specialist in minimally invasive cardiovascular monitoring of critically ill patients, and Philips Healthcare, worldwide market leader in patient monitoring, have agreed to extend their successful strategic collaboration.
The agreement covers several areas including future integration of Pulsion technologies into Philips patient monitoring systems. In the past, Philips Healthcare was the first leading manufacturer of patient monitoring systems to integrate Pulsion's flagship technology PICCO. PICCO-Technology was exclusivly licensed for the Health Care Solutions Group by Hewlett-Packard (today Philips) in 1998. Since July 2000 it is available in the Philips monitoring systems CMS und IntelliVue (since July 2002) with full functionality. More than 11,000 modules have been installed worldwide down to the present day.
Signing this agreement marks a further step in Pulsion's strategy of speeding up the global market penetration of its product lines by integration into multi-parameter monitoring systems of the major med-tech manufactures.
More on the subject:
More on companies: