ProSound a7
`High performance systems need not be large,´ says Aloka, manufacturer of the new compact ProSound a7, which produces high-resolution images yet can be used in areas with little spare space. `Broadband Harmonics provides high sensitivity and penetration that is comparable to fundamental-frequency imaging resulting in a significant improvement above standard harmonic imaging,´ Aloka reports.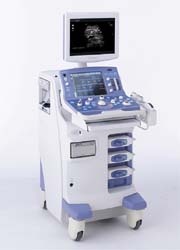 The system also incorporates Directional eFlow (D-eFLOW), Aloka's unique technology that dynamically improves spatial and temporal resolution of blood flow. Aloka points out that it copes with the full range of haemodynamic velocities from fine blood vessels with low velocities in the tip of a finger to large vessels with high velocities such as the Aorta.
The Dual Dynamic Monitor (DDM) mode allows viewing of a fundamental B-Mode image and a contrast-enhanced image simultaneously, side by side in real time.
Aloka points out a range of ProSound a7 abilities:
l Adaptive Image Processing (AIP) for speckle reduction: Speckle noise is reduced while maintaining frame rate thus enhancing tissue differentiation without affecting temporal resolution.
l Image Optimiser: Instantaneous automatic optimisation of the live B-mode image freeing the user from individual image adjustments during examinations, resulting in enhanced patient throughput & examination efficiency.
l Spatial Compound Scan: Offers an enhanced image processing technology by superposing images created by steering the ultrasound beam in multiple directions & user definable angles. Enhancing the definition of structures.
l Edge Optimiser: Improves overall edge definition of tissue boundaries to improve diagnostic confidence. Thus making measurements such as IMT & Nuchal Translucency definitive.
l Multi-Slice Imaging: This is a multi-planar sequential display function of 3D volume data, which is a popular display technique in CT and MR. Multiple cross-sectional images of arbitrary slice width can be displayed, making it easy to observe the extent of a lesion or structure such as the foetal heart for objective understanding of anatomical location.
l Flow 3-D: This function allows the user to add 3-D colour flow information to conventional 3D images of tissues. This makes it easier to appreciate the complex vessel positioning, such as tortuous or tangled vessels, in relation to the surrounding tissue which is harder to appreciate while viewing standard with 2-D images.
l Automatic Doppler Angle Correction: Flow direction is tracked using the colour Doppler image allowing automatic adjustment of the angle correction cursor at a press of a button. Thereby minimising user input & improving examination efficiency.
l Compatibility with 13 Additional Probes e.g.
– Compound Array Linear Probe allows electronic focusing in two planes to generate images of a uniform slice thickness from superficial to deep areas.
– 28 types of probes are now compatible, expanding the system's application range and enabling more specialised examinations in respective fields.
l Flow Mediated Dilatation (FMD) analysis is available by utilising the Aloka eTracking function. Automatically tracing the change in the diameter of vessels with a high accuracy of 0.01mm (at 10MHz) by tracking the zero cross phases of RF signals. Thereby providing an accurate way to evaluate & quantify vascular health.
Although launched only this year, Aloka reports that this compact ultrasound system is reported to have already attained a successful reception.