Tackling mobile tumours
Precision radiotherapy with 4D imaging
Radiotherapy always encounters particular challenges when a tumour is 'mobile'. This is when radiotherapy must be carried out over several weeks. Within that period the tumour position, shape and expansion typically will keep changing. Thus radiotherapy needs continuous adaptation to maintain continuously precise radiation.

Report: Chrissanthi Nikolakudi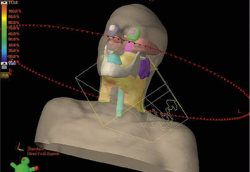 The treatment of lung cancer and of tumours located in the upper abdomen is at particular risk of missing the tumour and therefore endangering treatment success, because these tumours change position by several centimetres due to a patient's natural breathing. Up to the 1990s there was no method to account for this movement in radiation calculations, so the patient had to be given expanded radiation.
Classic radiation therapy based on 3D spatial resolution only captures the tumour's position, shape and expansion and then targets it. Speaking at the 20th Annual Congress of the German Society for Radiation Oncology (DEGRO), Professor Matthias Guckenberger, specialist for Precision Radiotherapy and Director of the Clinic for Radiation Oncology at the University Hospital Zurich, explained: 'If the 4th dimension, i.e. time, comes into play because of tumour movement then conventional treatment is no longer sufficient and we need 4D radiotherapy.'
4D radiotherapy is also known as Stereotactic Body Radiotherapy or Stereotactic Ablative Therapy. This non-invasive procedure depends on imaging procedures such as CT, MRI and PET/CT to locate the tumour precisely. 4D CT then facilitates individual and precise measurements of the tumour movement for each patient.
Based on the extent of the movement of tumours in the upper abdomen, for instance, a strategy to compensate for the movement is then selected. 'If the tumour moves by more than 5-10mm, 4D radiotherapy is needed,' Guckenberger said. The physician then has a number of procedures and technologies available to target the highly mobile tumours precisely. 'One of these,' he explained, 'is to use gating, that is, to stop radiation whenever the tumour moves from its focal point. Once it moves back into its original position radiation is then resumed.
'In the case of tracking, the radiation moves dynamically and in synchronisation with the tumour, i.e. it always pursues it,' he added. 'There are different procedures that are all equally as good. The important thing is to decide on one procedure and then to implement it consistently, with experience and quality assurance.'
In practice, the treatment team, of doctors, physicists and radiographers, carries out this treatment in three steps. First, the extent of tumour movement is calculated during the radiotherapy-planning meeting. Next, the radiation is adapted to this movement. Finally, radiotherapy, adapted to the patient's breathing, commences.
4D radiotherapy fights tumours affected by respiration movement with high doses. 'This is a big advantage of the procedure: the treatment is intensive, but short, Guckenberger pointed out. 'The procedure has a lower risk of side effects and can be carried out on an out-patient basis.'
Results from stereotactic body radiotherapy performed at 13 German and Austrian treatment centres are also consistently excellent. Small lung cancers can be treated so effectively with the aid of 4D radiotherapy that the clinical results are comparable with those achieved through surgery.
This also enables successful treatment of patients who cannot undergo surgery due to concomitant diseases. Stereotactic body radiotherapy is now increasingly also used to treat liver and kidney cancers as well as spinal metastases – with very promising results.
PROFIL:
Matthias Guckenberger MD, is director of the Clinic for Radiation Oncology at the University Hospital Zurich, Switzerland. Following his habilitation on 'Image Guided Precision Radiotherapy', in 2012 he gained the professorship for Radiotherapy at the Medical Faculty of the Julian Maximilian University of Würzburg, Germany. The professor also manages the Working Group for Stereotactic Body Radiotherapy for the German Society for Radiation Oncology (DEGRO).