Article • Point-of-care testing
POCT: a "win-win" scenario for all involved
Point-of-care testing (POCT) is a "win-win" scenario for patients and healthcare professionals in delivering care when and where it is needed, according to pathologist Adil Khan, MSc, PhD. Speaking ahead of his presentation at the EuroMedLab event in Munich from April 10-14, the expert explained that POCT is the fastest growing sector of the diagnostic industry. Performed at the patient's bedside with small handheld devices such as glucose meters or single use disposable kits, it enables tests to be delivered in a timely fashion.
Report: Mark Nicholls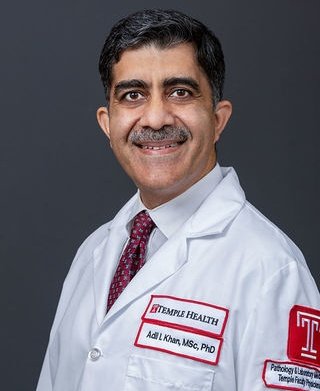 Dr Khan, who is an Associate Professor of Pathology at the Lewis Katz School of Medicine, Temple University, in Philadelphia, US, will compare the clinical care pathways of patients that tests at a physical hospital laboratory with POCT. He said: 'POCT changes the clinical care pathway to a better, more convenient one; the patient is happy because they are given their care with very little inconvenience and the healthcare worker is happy because their patients are getting timely treatment. This is a "win-win" for all players.'
POCT changes the clinical pathways because the patients are given results within minutes at their bedside and can be quickly managed and treated, he added. From the patients' perspective, this removes the need to relocate to other locations, which is often perceived as a hurdle and lowers compliance, at a possible cost to their health.
High mobility for remote application
Another benefit of POCT is that it does not require the hospital infrastructure of laboratory testing, such as power and a deionized water supply for the reagents. Most POCT kits are designed to not require additional water apart from that which is present in the specimens or reagent mixed to release the analyte being measured. 'This "mobility" of POC testing is something we can use to help change a person's clinical care pathway,' Dr Khan added. It also has value in remote locations, such as in rural Australia, where POCT is overcoming the challenges of providing good healthcare to isolated communities. 'POC testing has filled a very important niche in this environment.'
Going "nano" to improve analytical sensitivity
At EuroMedLab, Dr Khan will also discuss how POC test instruments should be assessed to ensure they are reliable and effective. He acknowledged that POC testing devices often do not achieve the same analytical sensitivity and specificity as larger laboratory instruments and therefore end up as screening, rather than diagnostic, tests. 'This has been a strong area of research and development and a lot of progress has been made in this regard using nanomaterials,' said Dr Khan. 'At the nano-level, a material has very different physical and chemical properties than its macro-level version. This uniqueness is being harnessed in developing nanomaterial-based biosensors that have vastly better analytical properties.'
However, using quantum dots, upconverting nanoparticles, and dye-loaded fluorescent nanoparticles, together with strip readers with better optics, POC testing has seen the development of lateral flow assays with better analytical performance that can detect levels near the laboratory instrument range.
Covid-19 pandemic showcased POCT potential
As POCT technology gets better analytically and cheaper, it will be an important tool in the healthcare workers' armament to deliver better care in communities

Adil Khan
Furthermore, the tests are being combined with other technologies such as loop-mediated isothermal amplification (LAMP), polymerase chain reaction (PCR), and CRISPR to construct other POCT detection platforms. Dr Khan said: 'Research and Development in POC tests for infectious diseases is a particularly important area of expansion and focus since infectious diseases can wreak so much havoc on communities, as we have seen with Covid-19.' The coronavirus pandemic made clear the importance of a quickly customizable POC platforms that can be used to identify an emergent pathogen. Having such a tool in the diagnostic arsenal will help triage patients and prevent spread, the expert said. 'As POCT technology gets better analytically and cheaper, it will be an important tool in the healthcare workers' armament to deliver better care in communities.'
The hospital or reference laboratory will not, however, become redundant, Dr Khan stressed. They still cover a greater scope of pathogens and are indispensable for testing large numbers of patients in a short time. 'But POC testing will continue to grow and be more part of our lives as we strive for better health,' the expert concluded.
*How does Point of Care Testing change the clinical pathways? 10:30am-12:30pm, Symposium 23, April 14. As well as Dr Khan's discussion, the session examines quality control for POCT, the role of POCT in the clinical pathway of diagnosing SARS-CoV-2 infections, POCT for Anti-Mullerian Hormone, and haemolysis detection with the H-10 Hemcheck device in whole blood and plasma STAT samples.
Profile:
Adil Khan, MSc, PhD, is an Associate Professor of Pathology at the Lewis Katz School of Medicine, Temple University, in Philadelphia, US, and the Medical Director for Point-of-Care Testing and Clinical Chemistry Laboratories for the Temple University Health System. As well as teaching, his research interests include understanding the role of adhesion molecules and extracellular vesicles in inflammation and on the clinical side. His focus is on clinical trials of point-of-care testing devices/laboratory instruments, and assay development. Dr Khan is Chair of the International Federation of Clinical Chemistry and Laboratory Medicine Executive Board Committee on Point-of-Care Testing.