Philips unveils new approach and advances in clinical collaboration
This year at the 96th annual meeting of the Radiological Society of North America (RSNA) in Chicago, Philips was ushering in a new era in radiology science with Imaging 2.0, a concept fueled by integration of technology, clinician and patient.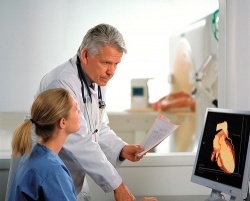 Showcasing its commitment to pioneering innovative, cost-effective solutions, Philips is highlighting technologies that focus specifically on the patient, in addition to advanced networking tools that facilitate greater collaboration between radiologists and referring physicians.
The Imaging 2.0 concept is poised to address a dilemma that exists in healthcare today: more consumers are demanding quality healthcare, yet there is less money to treat them. Based on feedback from clinicians, Philips' approach to this dilemma is to enable enhanced and smarter collaboration through advanced technology with the hope of better patient outcomes and lower costs for the healthcare system.
"Just as Web 2.0 redefined the way people connect, share and use the Internet, Imaging 2.0 represents a new world of possibilities for radiology science. It is about integration and collaboration, and new levels of patient focus and safety that can help clinicians achieve what was unimaginable just a few short years ago," said Gene Saragnese, general manager, Imaging Systems, for Philips Healthcare. "With Philips, the radiologist can now integrate information from various sources to make a confident diagnosis and discuss it with all the clinical partners on the case—putting the radiologist at the center of clinical decision-making. This kind of collaboration and integration combined with major advancements in patient safety and comfort, all packaged to provide an excellent economic advantage for the radiologist, has triggered the next revolution in imaging: Imaging 2.0."
New product introductions showcase pioneering, innovative and cost-effective solutions for radiology
• Ingenuity CT: a new CT (computed tomography) platform that puts the patient first by offering up to 80 percent less dose while maintaining diagnostic image quality and improving spatial resolution. The Ingenuity CT system is designed to provide equivalent diagnostic image quality with the same look as full-dose images at a fraction of the dose, while its technological capabilities allow for detailed visualization of bones to assist with more accurate diagnosis.
• Ingenuity TF PET/CT: a premium hybrid imaging system combining PET (positron emission tomography) and CT to conduct studies in oncology imaging, cardiac perfusion and diagnostic CT. The Ingenuity TF PET/CT system is an example of smart integration that includes all of the benefits of the Ingenuity CT platform, including dose-reduction technologies.
• IntelliSpace Portal: a new multimodality, multivendor workstation that, for the first time, uses advanced networking capabilities to facilitate collaboration between radiologists and referring clinicians anytime, anywhere no matter the modality or vendor, ultimately helping to speed clinical diagnosis.
• Juno DRF: introduced for the first time in the U.S., the Juno DRF, a remote-controlled flat detector system, combines digital radiography and fluoroscopy applications in one system enabling a wide range of applications. The system's dual imaging mode increases room utilization, and also allows faster workflow and increased patient throughput. The Juno DRF has been for sale in Western Europe since January 2010 and is not available for sale in Canada.
• DigitalDiagnost – ER Wireless: an X-ray system with a rugged wireless portable detector, built-in handle and cable-free design that allows easy maneuvering for even the most difficult anatomical views and optimizes access to critical patients in emergency rooms (ER), trauma units and recovery bays.
• iU22 xMATRIX Ultrasound: a new ultrasound system that allows clinicians to create two full-resolution images simultaneously, capturing twice as much clinical information in the same amount of time without moving, turning or rotating the transducer. Clinical trials have shown that the solution speeds workflow thus enhancing economic value, in addition to improving perception of anatomy helping clinicians to make more informed clinical care decisions.
Innovations in imaging seek to advance diagnosis and radiology workflow
Philips' whole-body PET/MR system integrates the molecular imaging capabilities of PET with the superior soft tissue contrast of MR (magnetic resonance imaging). The system is pending 510(k) clearance and is not available for sale. Studies on the system are ongoing at the University of Geneva, Switzerland; Mount Sinai Medical Center, New York; and FZD, Dresden, Germany.
Also being demonstrated at RSNA is the new Philips Ingenia MR solution, the first-ever digital broadband MRI (magnetic resonance imaging) system. The system is CE-marked, but is pending 510(k) clearance and is not available for sale in the U.S. Clinicians have long relied on MRI for its exceptional ability to differentiate various soft tissues. Until now, all MRI systems have utilized analog components for the signal acquisition and processing needed to generate patient images. However, the use of analog components during these processes has limited the upper reaches of image clarity and quality.
The Ingenia MR system introduces, for the first time in MRI, digital signal acquisition and processing directly in the radio frequency (RF) receive coil nearest to the patient. By digitizing the signal directly in the RF receive coil and maintaining the digital connection throughout the entire MRI scanning process, Ingenia is able to generate up to a 40 percent improvement in signal-to-noise ratio. Improving signal-to-noise ratio enables the delivery of crisp image clarity that clinicians need to help make informed decisions possible for a wider range of clinical procedures, including traditional applications like neuro and musculoskeletal and fast-growing applications like body and cardiac.
Ingenia's digital capabilities also overcome the scalability limitations typical of analog based systems. Similar to the transition from limited channel analog television to unlimited channel digital broadband HD television, the digital signal acquisition and transmission capability of Ingenia is independent of the number of channels. Unlike fixed channel analog systems, users can add new and future clinical applications, which may require higher channel coils, in an easy and cost-effective way. In addition, if a higher channel coil is required for a clinical procedure, Ingenia's channel independent architecture is capable of performing the exam without requiring expensive hardware and software upgrades to the MRI system. This gives hospitals the flexibility they need to stay on the clinical cutting edge, now and in the future.
You can visit Philips at RSNA 2010 in the North Hall (booth number 7724) of the McCormick Place convention center in Chicago.

More on the subject:
More on companies: