Philips and Ascent Profit sign contract to deliver digital radiography systems to China
Shanghai, China — Royal Philips Electronics and Ascent Profit, a leading Chinese medical equipment wholesaler, today announced that they have signed a €25 million contract to bring digital radiography systems to hospitals in China.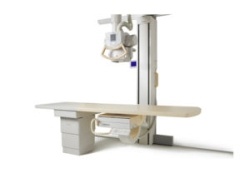 This is the continuation of a similar agreement made in 2007 and strengthens Philips' position in the fast-growing Chinese healthcare market. It will enable hospitals across the country to benefit from advanced imaging capabilities and the efficiency of digital workflows.
The productivity and cost benefits of digital radiography meet the needs of Chinese healthcare facilities, enabling them to raise the quality of care while increasing the number of patients they can treat. Digital X-ray systems are now being broadly implemented in the country's major hospitals, making digital radiography one of the fastest-growing segments in the China's healthcare market.

Through the agreement with Ascent Profit, Chinese healthcare facilities have access to advanced Philips digital radiography solutions, allowing them to take full advantage of the benefits that digital radiology offers. These benefits include faster image information, time savings through digital integration, and cost reduction through improved workflows and increased patient throughput.

"This agreement with Ascent Profit will enable us to further expand our market coverage to the second and third tier cities and less developed rural areas to meet the growing requirement for rural and community healthcare," said David Jin, CEO of Philips Healthcare for Greater China. "It also exemplifies our continued effort to improve lives through solutions designed around the needs of care providers and patients."

"Listening to our customers and understanding their needs is at the center of our business. Working closely with our dealers and customers in China ensures that we can transform our customer insights into the right solutions that exactly meet their needs. Our digital radiography solutions provide highly advanced imaging capabilities and the efficiency of digital workflows – improving care for patients in China," said Christiaan Neeleman, general manager General X-ray at Philips Healthcare.

"Digital radiography is one of the fastest-growing segments in the Chinese healthcare market and we are delighted to continue our relationship with Philips in 2008," commented Lin Yang Chen, general manager of Ascent Profit. "By working with Philips we can provide hospitals across the country with a sophisticated digital radiography solution, offering a highly intuitive user interface and some of the best quality images available in the market."
More on the subject:
More on companies: