Partnership Model
10-year agreement with Philips Pioneer Healthcare Technology will provide Barcelona hospital with consistent access to leading imaging technology solutions, designed around its needs.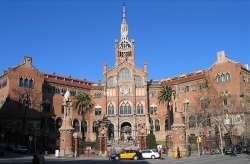 The Hospital de la Santa Creu i Sant Pau and Royal Philips Electronics (NYSE: PHG, AEX: PHI) today signed a 10-year agreement to manage the imaging technology needs of the hospital's imaging diagnostics department. Philips will be responsible for providing and managing the hospital's medical imaging capabilities for the duration of the contract period at a fixed monthly fee.
The agreement illustrates the expanding role that public-private partnership initiatives are playing across the European healthcare sector. Healthcare organizations face a continual pressure to keep at the forefront of developments in imaging technology whilst managing costs. This agreement will enable Sant Pau Hospital to better manage its costs while ensuring it has access to the advanced technologies required by a leading hospital.
"The Hospital de la Santa Creu i Sant Pau and Philips share a common vision for approaching the challenges in diagnostic imaging, as well as a common ambition in terms of the role that our imaging diagnosis department should play in the national and international arenas," said Dr Josep Lluis Soler, deputy manager of the Hospital de la Santa Creu i Sant Pau.
"Meaningful innovation in technology is at the heart of our business, but innovation in how we provide that technology to our customers is increasingly important," said Ignacio Ayerdi, general manager for Philips Healthcare in Spain. "Like our customers, we measure our success on the impact of our technologies on patient outcomes. That's why we are working alongside Hospital Sant Pau, enabling it to provide the best solutions for the key challenges in healthcare, today and in the future."
Under the contract Philips will provide, maintain and replace medical equipment over the next 10 years at a fixed monthly fee without incurring high initial expenditure for the hospital. This ensures that the hospital is equipped with solutions that put clinicians' and patients' needs at the centre of care. Medical equipment will be replaced in line with agreed cycles, based on clinical guidance from Hospital Sant Pau and taking into account any technological advances that occur during the contract period. The agreement includes management of equipment from imaging specialties including MR, CT, nuclear medicine, X-ray and ultrasound.
The contract is part of Philips' managed services program, which incorporates a commitment from the company to provide medical technology, including upgrades and replacements, at a fixed monthly fee. A managed service solution ensures a hospital is guaranteed to be provided with advanced technology, at an assured performance level and at a fixed budget over the contract period. The result is flexible, tailored and reliable business solutions for customers. As a result of the agreement, Hospital Sant Pau will become an international reference site for Philips.

More on the subject:
More on companies: