Sponsored • Implants
Osteoconductive PEEK biomaterial for injection molding
The specialty chemicals company Evonik and the Swiss plastics specialist Samaplast are combining their expertise in the development of an osteoconductive PEEK biomaterial for injection molding.
As part of the collaboration, both partners are demonstrating and documenting the outstanding processing properties of the new osteoconductive high-performance polymer VESTAKEEP® Fusion using the first prototypes of spinal implants.
Biphasic calcium phosphate accelerates healing
Until now, it has been virtually impossible to manufacture implants from polymer compounds with bioactive particles by injection molding, because a thin polymer layer usually forms on the surface that overlays the particles, preventing the implant from growing in. But with VESTAKEEP Fusion, the functional BCP additives (biphasic calcium phosphate) are also available on the surface of injection-molded components. This is ensured by the specially configured microparticles and their homogeneous distribution.

"Implant manufacturers were missing a PEEK material that fuse with bone cells and thus accelerates healing, for example after spinal surgery," says Marc Knebel, Head of the Medical Systems Market Segment at Evonik. "We are closing this gap in the market with VESTAKEEP Fusion and offering an alternative to titanium, stainless steel or cobalt-chromium implants right away."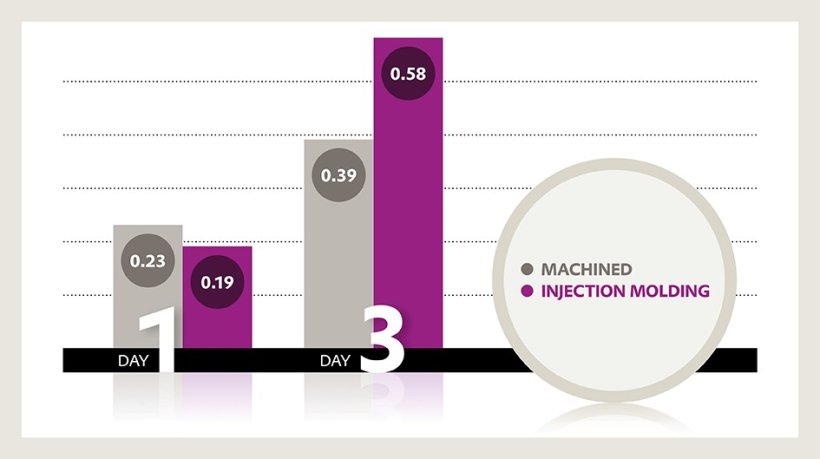 Osteoconductive PEEK biomaterial for injection molding
VESTAKEEP Fusion was developed with a goal to process in different manufacturing technologies and is initially offered as granules and semi-finished products. It can be milled, compression molded, extruded-and even injection molded. For the latter, Evonik has optimized the compound in close cooperation with Samaplast AG.

"We tested VESTAKEEP Fusion on injection molding machines in the clean room and found that it was very easy to process," confirms Samaplast CEO Stefan Okle. "Thanks to the excellent exchange with Evonik, we were able to produce a prototype within ten days." Previously, tool development alone had taken eight to ten weeks. With rapid prototyping, this process can be shortened considerably.
Recommended article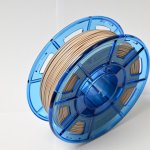 Article • Additive manufacturing
Evonik offers a comprehensive portfolio of 3D printable med-tech biomaterials that can be used to produce medical devices with temporary or permanent body contact. Marc Knebel, head of Medical Systems at Evonik, explains the benefits and applications of the new high-performance polymer VESTAKEEP Care M40 3DF.
Cage prototype demonstrates the design diversity
Evonik and Samaplast are demonstrating what is possible with the first prototypes of intervertebral implants, known as cages or spacers, which are used to fill the disc space in the spine following its removal due to disc degeneration. "We have produced a cage that contains all the details, such as serrations, threads, and apertures, that are relevant for spinal implants," explains Okle.

Thanks to the design freedom in injection molding of VESTAKEEP Fusion, specific cage variants can be produced - tailored to the anatomical conditions and different surgical techniques such as PLIF, TLIF and ALIF. The cage models show the design diversity in the interlocks and in the cavities for ossification. In addition, the design facilitates instrument guidance during surgery and also enables minimally invasive, patient-friendly surgical techniques.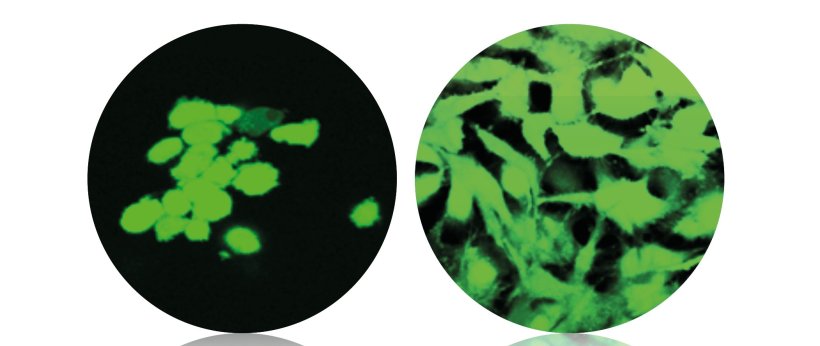 Over 30 percent higher cell profileration
With VESTAKEEP Fusion, Evonik is introducing a new product line of next-generation PEEK-based implant materials. The osteoconductive properties of the new PEEK material were achieved by using a special functional additive - biphasic calcium phosphate - and allow bone cells to adhere to implants more quickly, thus positively influencing fusion, so called osteointegration, at the boundary between the bone and the implant. This, in turn, will accelerate bone fusion and convalescence.

In vitro studies document over 30 percent increased cell attachment and cell proliferation. In preclinical tests, histological examination reveals a dense network of newly formed osteoblasts at the bone-implant interface. Bone histomorphometry shows an approximately twofold increase in bone apposition. And pull-out tests demonstrate a more than twofold increase in implant fixation.

Find out more here!
Source: Evonik
More on the subject:More on companies: