Article • Additive manufacturing
3D printable biomaterial for personalised medicine
Evonik offers a comprehensive portfolio of 3D printable med-tech biomaterials that can be used to produce medical devices with temporary or permanent body contact. Marc Knebel, head of Medical Systems at Evonik, explains the benefits and applications of the new high-performance polymer VESTAKEEP Care M40 3DF.
Report: Sascha Keutel
A polymer biomaterial – isn't that a contradiction in terms? "No," Marc Knebel says and explains that "biomaterials are frequently confused with organic or organically based materials. However, the term applies to substances that interact with living tissue and can be implanted in the body without releasing toxic substances. They are bio-compatible." Nevertheless, the body might react aggressively towards such biomaterials thus, Knebel adds, "biostability is an important factor which ensures that a material can perform its functions over the envisaged time period."

PEEK is a so-called thermoplastic, i.e. it becomes pliable or mouldable at a certain temperature. There are four categories of thermoplastics: standard polymers, which are used for applications such as packaging material, plus technical, functional and high-performance polymers. "The new 3D printable PEEK filament is a part of our care grade product line and based on the high-performance VESTAKEEP Care M40 PEEK resin," says Knebel.
High-performance polymers are characterized by their high temperature resistance and heat deflection temperature. While standard polymers deform at 100 °C, high-performance polymers can be used with temperatures of up to 300 °C. "PEEK is a real all-rounder as it offers very good temperature resistance, chemical resistance and sterilizability," says Knebel.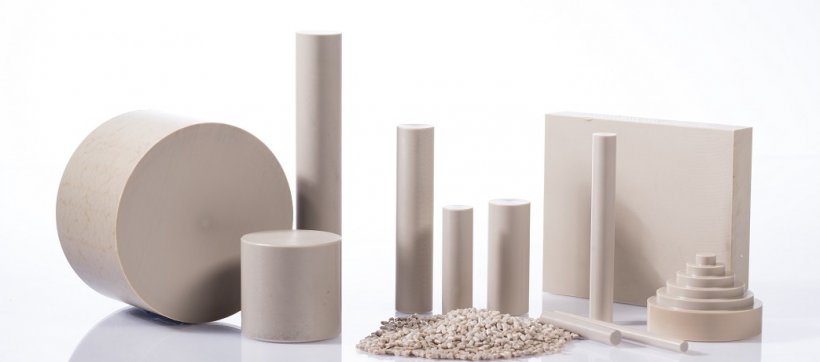 Production
While Evonik manufactures the polymer as rods or plates the customers mechanically turn this semi-finished product into the desired product. The polyether ether ketone filament is manufactured under cleanroom conditions and then subjected to strict quality management for medical materials. "The filament is shaped like spaghetti or a thick thread", Knebel explains. The naturally coloured, 1.75mm diameter VESTAKEEP Care M40 3DF is delivered on 500g spools.
The high-performance polymer can be processed in common extrusion-based 3D printing technologies such as fused filament fabrication (FFF) or fused deposition modeling (FDM). "The filament is molten in 3D printing and applied. This allows the production of personalised instruments or similar devices," says Knebel.
Application
VESTAKEEP Care M40 3DF is designed for medical device applications, i.e. short-term body contact for a maximum of 30 days. Medical instruments are often in contact with the body only for a few minutes. For example, as Knebel explains, as "applicators in port systems in oncology, surgical drilling aids in dentistry or individual surgical instruments for screws in sports medicine, so-called suture anchors. A further field of application are personalised prostheses and orthoses."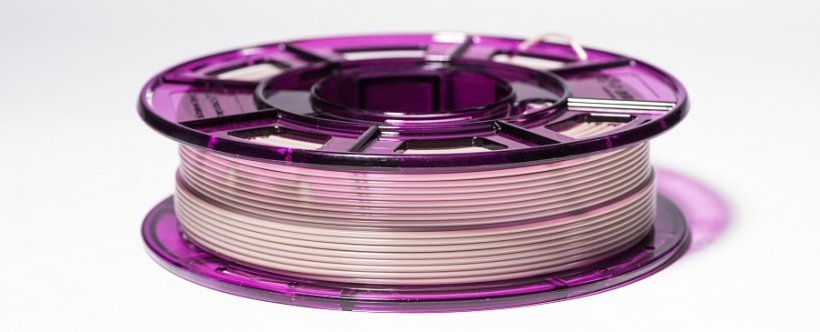 Long-term implants
With regard to long-term implants PEEK can be used in hearing aids and more generally for active implants with integrated electronic components such as pumps that remove fluid from the abdominal cavity into the bladder. Cardiac pacers already contain an isolating foil made of PEEK.
The main field of application according to Marc Knebel is replacement of vertebrae components, particularly spinal discs: "When a prolapsed spinal disc applies pressure on nerves and this situation cannot be remedied with conventional methods, the disc has to be removed and replaced by an implant."
Outlook
"In order to be able to realize healthcare innovations that increase the quality of life, we need a broad range of materials. PEEK is a polymer that can replace metal," Knebel is convinced. Historically, metals were the material of choice in medical technology and the benefits of polymers were discovered only in the 21st century, for example for stress shielding: "When a metal plate is fixed to a bone, this plate has to have the same stiffness as the bone. If not, the plate carries all the weight and the bone turns passive and disintegrates." A polymer such as PEEK however offers stiffness that is very similar to that of bones.
Since PEEK is an alternative for patients who are allergic to metals it can play a crucial role in dentistry. "We aim to revolutionize medical technology with innovative material solutions. Our portfolio of 3D biomaterials is cutting-edge," says Knebel.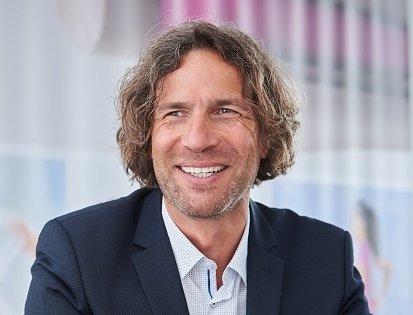 Profile:
Marc Knebel studied plastics engineering at the University of Applied Sciences Darmstadt and economics at the Ludwigshafen University of Business and Society. In 1998 he joined Quadrant Engineering Plastics AG (Mitsubishi Chemical Advanced Materials) where he held different roles, inter alia Global Market Segment Manager for medical and life science application. Since 2008 Knebel has been heading the international business division high-performance polymers for the healthcare market at Evonik. He developed and launched the VESTAKEEP® PEEK (polyether ether ketone) portfolio for implants and dentistry. He currently leads the specialty chemicals group's global Medical Systems Team.
More on the subject:
More on companies: