NICE recommends annual MRI screenings for breast cancer
Guidelines updated for high-risk women aged between 20-49 years.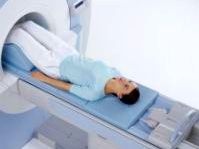 25 October – The National Institute for Health and Clinical Excellence (NICE) – the independent organisation responsible for providing national guidance on the appropriate treatment and care of people with specific diseases and conditions within the National Health Service (NHS) - has updated its familial breast cancer guideline to recommend annual magnetic resonance scanning (MRI) for breast cancer screening of women aged between 20-49 years who are at high risk of breast cancer. These include the country's estimated 1% of young women who carry either of the recently discovered high-risk genes BRCA1 or BRCA2, and therefore face an up to 85% breast cancer risk (the average woman faces an 11% risk).
A country-wide study, by the Institute of Cancer Research (published in the Lancet in May 2005) found that MRI identified 77% of tumours in younger women at high genetic risk - compared with just 40% using X-ray mammography (XRM). A combination of MRI and XRM screening enabled the detection of 94% of tumours. MRI proved particularly effective for women carrying the BRCA1 gene mutation - detecting 92% of tumours, whereas XRM only detected 23%.
About 40% of women at high risk opt to have mastectomies rather than face the risk of developing cancer. This has meant removing healthy breasts. Although about 10 time more expensive than the standard mammograms currently used, an annual MRI scanning programme for women in this high risk category could alter that radical choice of surgery.
Although in the USA, high risk women are routinely offered MRI scans, in the UK, women aged 40+ with high-risk genes are currently only offered mammography, and the arrival of the NICE updated screening guideline does not necessarily herald a change in practice. Health authorities must follow NICE rulings on the use of pharmaceuticals, but NICE guidelines on procedures are not mandatory; they are viewed as 'best practice' standards. Thus the adoption of MRI scanning for the high-risk women will remain a decision of the healthcare authorities, which in turn must consider budgetary restraints.
* In the NICE guideline, all the other recommendations on how health professionals should identify and care for women at risk of developing breast cancer due to familial breast cancer remain the same.
Value of screening questioned

A new major review of studies on breast cancer screening, which involved half a million women, has caused considerable stir in the UK. The review, carried out by the Nordic Cochrane Centre and published by the Cochrane Library, concludes that whilst screening is likely to reduce breast cancer mortality, it is by a fairly low percentage, and it can also lead to over-diagnosis and over-treatment. For every 2,000 women screened over a 10-year period, one would have life prolonged. But, the report adds, 10 healthy women will be treated unnecessarily, because they have slow-growing cancers that might never have affected them if they were not identified during screening.
Dr Peter Goezsche, director of the Centre said that, because the risk for harm is so big, if he was a 50-year-old woman he would decline an offer of screening, '…I would not participate in this lottery'.
The review has led Michael Baum, Professor Emeritus of Surgery, Visiting Professor of Medical Humanities at University College London, and pioneer of the UK's screening programme, to question whether the NHS breast screen programme should be abandoned, and to call for an investigation by NICE.