New treatment methods for chronic wounds on horizon
A wound compress is being developed at the Hohenstein Institute in Boennigheim, Germany, that could pave the way for new treatment opportunities. The new wound compress would integrate and continually deliver effective ingredients on the basis of nanosol technology. The technique speeds up healing, simplifies treatment and reduces the amount of time required for care.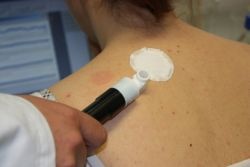 Until now effective ingredients that promote healing always had to be applied to the site independent of the wound compress, for example in the form of ointments that are placed on the wound. In the nanosol modified wound compress, individual cellulose fibres are coated with an inorganic matrix of inert silicon (SiO2). The effective ingredients are bound up in these fibres. When the fibres come into contact with moisture, the effective ingredients are continually delivered to the wound site.
Due to the large number of drugs available for treating wounds and their chemical diversity, Dr. Dirk Hoefer's team worked with substances that were representative of specific groups of effective ingredients for healing wounds. The team investigated if these drugs were well-suited for bonding in a matrix, which would make them applicable for development in products that could be used during different phases of wound treatment or for the treatment of different types of wounds.
Among the items the scientists at Hohenstein developed were anti-bacterial wound compresses. The antibiotics are bound stably in the spaces (cavities) in the nanosol layers and
are continually released into the moist environment of the wound in therapeutically-effective, high doses and as a result contribute to preventing infection. Bonding chitosan into the nanosol layers was also successful, but it did not have the desired antimicrobial effect. By contrast, the nanosol fixing of the vitamin precursor dexpanthenol – which promotes skin regeneration – was promising.
With the help of a technology developed at the Hohenstein Institute, this substance can be absorbed and retained in viscose without problem. By using textile bioassays, the experts at Hohenstein proved both in vitro and in vivo that the substance is released in the physiological conditions present in a wound and significantly improved skin regeneration. With respect to the healing of wounds, the research project also showed promising results. By modifying the SiO2-sol, Dr. Hoefer's team was even able to embed healing proteins successfully and demonstrate their targeted release. Examples of this are the enzyme bromelain, which breaks down the wound coating; trypsin inhibitor, a regulatory protein central to the healing of wounds; and the wound healing growth factor insulin.
Yet the leader of the project, Dr. Hoefer, says there is still more research and optimisation work to be done before textile-based items containing therapeutic effective ingredients can be licensed to for marketing as a medical products.
Pictures: Hohenstein Institute