New technology to reduce biopsies
Although about 75% of biopsies are negative, the side effects of that invasive procedure, plus the length of time to results, disturbs patients. Now, however, a new technology might be able to differentiate benign and malignant tissue due to an adjunct of a normal breast ultrasound examination.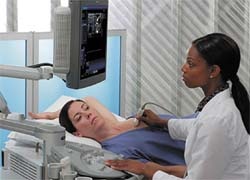 eSie Touch Elasticity Imaging, a new software from Siemens Medical Solutions, has become available with the firm's 5.0 release of the Acuson Antares ultrasound system. Using this application, physicians can generate an 'elastogram' to obtain additional information about mechanical properties, such as the stiffness of breast lesions. (Generally, just a patient's heartbeat and respiration provide sufficient movement to generate an elastogram).

Several studies involving this method are showing 'promising success', Siemens reports. 'In a recently published American study, 80 patients with a total of 123 suspicious lesions were examined using the elasticity measurement. 18 lesions were classified as malignant, which was confirmed in 17 cases by a biopsy. Of the 105 lesions predicted as benign, all were also proven so by biopsy. Results are now being validated in comprehensive studies in Europe.'
Of course, the ability to visualise tissue elasticity could not replace biopsies in general, Siemens agrees. However, the firm adds, there is reason for hope that this method might reduce the number of unnecessary breast biopsies.
More on the subject:
More on companies: