New technology accelerates diagnosis
By Guido Gebhardt
Radiologist Dr Christoph Seifried, and colleagues at Altötting hospital, are among the first to use the new Sectra workstation IDS7/rx.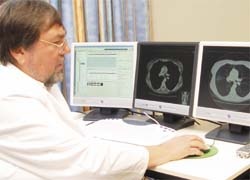 Even before an examination is over the radiologist can commence diagnosis based on the first images transferred from the modality… Step by step, the entire data set is being loaded until all images are available in high resolution. Above all, teleradiology applications benefit. 'IDS7/rx is the ideal solution for multi-site PACS installations,' said Dr Seifried, pointing out that radiologists can access images from different locations – the network covers three sites: in Altötting the teams runs a radiology department and delivers the entire range of diagnostic imaging for the town's hospital. In addition, it services Burghausen Hospital, 20km away, which has no radiology department. The radiology office in Mühldorf is a division of the Altötting office and provides CT and MRI diagnostics for the Mühldorf Hospital.
The Swedish company introduced an innovative web-based technology that uses the available network capacity optimally during image transmission. IDX7/rx was especially designed for effective transmission in environments with fluctuations in network quality or for networks with low data transmission rates.
In complex examinations, image files of organs can be several Gigabytes. Sectra reports that IDS7 can handle huge data volumes and thus allows the integration of such processes into daily workflows without data loss.
The IDS7/rx workstation employs standard tools and also provides 3-D rendering tool, and a wide range of diagnostic tools for data intensive applications.

Teleradiology
The technology called JPEG2000 provides progressive data transfer, which means the distant user initially receives low-res data sets, then step by step remaining data are loaded with image resolution increasing.
The idea to load the data into a local cache significantly increases the performance of the work station, Sectra explains. The radiologist can immediately access the entire decompressed data set and he can choose between loading an entire work list or only single examinations to process the work list without delay.
At the same time the local cache ensures the data security because the system saves only images but no patient data on the computer. The user is always linked directly to the database and will be alerted immediately when the data set has been modified, for example when a colleague has added notes.
Dr Seifried said he is impressed by IDS7/rx's new functions: it offers an intuitive, Windows-based user-interface that does not require training and thus immediately accelerates radiological workflows.
More on the subject:
More on companies: