New MRI breast scanner from Siemens
Siemens Healthcare recently presented its first MRI breast scanner, Magnetom Espree-Pink. The 1.5-Tesla system is the latest innovation in magnetic resonance imaging, featuring a dedicated solution for breast examinations. Particularly for obese and claustrophobic patients, the large, 70-centimeter magnet bore makes examinations more comfortable, or, in some cases, it makes them possible for the first time ever.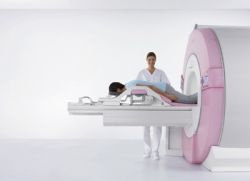 Siemens developed the Magnetom Espree-Pink specifically for breast scans and to make
examinations more comfortable for patients due to its compact, open design. With a diameter of 70 centimeters, the magnet bore is 10 centimeters wider than most conventional systems.
Furthermore, with 125 centimeters, the Magnetom Espree-Pink is the shortest system available on the market. Patients can be positioned either feet-first or head-first, according to requirements. Moreover, the scanner also offers sufficient space for adipose patients. "Patients are always nervous during breast MRI examinations and biopsies. The biggest advantage in using Magnetom Espree and the Sentinelle system is the wide open access," said Jae K. Kim, MD, PhD, Radiology Limited, Tuscon, Arizona.
The flexible "Sentinelle Vanguard for Siemens" coil solution makes both imaging and biopsies
possible using only a single coil. Depending on requirements, only the lateral inserts of the coil are replaced. The frame itself remains on the table and does not have to be repositioned. In addition, due to its variable coil geometry (VCG), the coil can be optimally adapted to the different breast sizes of various patients. Excellent image quality is attained through an improved signal-to-noise ratio and with the help of eight RF channels.

The workstation of the Magnetom Espree-Pink is equipped with the new syngo BreVis and syngo BreVis Biopsy software applications for planning and running the individual work steps during the image acquisition and biopsy processes. For example, syngo BreVis enables clinicians to prepare reports, calculate the size of a lesion, or compare MRI results with ultrasound or X-ray mammography images. The syngo BreVis Biopsy software application supports the physician in performing biopsies accurately and quickly using automatic calculations and pre-settings.The system is equipped with 18 channels, which ensures its investment security. The breast scanner can be upgraded to a Magnetom Espree with all imaging possibilities for any anatomical region, if required.
More on the subject:
More on companies: