New molecular diagnostic research institute
Siemens Healthcare is working on diagnostic tests for early detection and characterziation of a patient's tumor cells. The Cologne laboratories for molecular diagnostics especially concentrate on the research of breast cancer, a disease that still is number one cause of death among women. The results should help to adapt a customized therapy to the individual patient.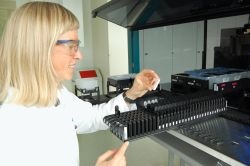 Siemens has been researching innovative biochips at its Molecular Diagnostics facility with which newly developed breast cancer tests can be performed. Biochips can perform hundreds, and in extreme cases hundreds of thousands, of diagnostic tests simultaneously. Many different tumor characteristics must be investigated in order to identify the possible of various therapies. Biochips are therefore especially suitable for performing a high number of required tests both fast and efficiently.

"Siemens Healthcare chose Cologne as the new site for its molecular diagnostics research in Germany because this city is one of Europe's leading competence centers in the field of biomedicine", said Donal Quinn, Chief Executive Office of the Diagnostics Division of Siemens Healthcare. "Viewed from the perspective of Siemens, a medicine that is more strongly based on molecular medical and knowledge-based techniques will be able to make important long-term contributions toward improving the quality and increasing the efficiency of healthcare."

Even today, many illnesses are detected relatively late, thus reducing the chance of recovery and increasing the cost of treatment considerably. Moreover, due to a lack of suitable test procedures, it is only seldom possible to predict with certainty whether or not a patient will respond to a particular therapy. In many cases, physicians must try multiple therapies in order to find the right one.

This is where molecular medicine comes in. It seeks a better understanding of the causes and relationships of illnesses at the molecular level and integrates the results in knowledge-based applications. These applications combine information obtained from different diagnostic techniques and compare these results with reference data obtained from large populations. This should make it possible to diagnose impending illnesses in a very early stage and, ideally, prevent them altogether or, if the disease has already broken out, choose the proper therapy in a more purposeful and individualized manner.
More on the subject:
More on companies: