News • Assistance in lymphedema treatment
New microsurgery robot shows promise
Supermicrosurgery – operations on vessels ranging from 0.3 to 0.8 millimeters – is limited by the dexterity of the surgeon's hands. To bypass this limitation, robots can assist in the surgical process.
One such robot is MUSA – the world's first robotic platform for supermicrosurgery, which was co-developed by researchers from Eindhoven University of Technology (TU/e) and the TU/e spin-off company MicroSure. Now MUSA has been used in the world's first clinical study of robot-assisted supermicrosurgery in close collaboration with Maastricht University Medical Centre+. They confirm that it is safe and feasible to connect lymphatic vessels to blood vessels in the treatment of lymphedema using the robot.
The results were now published in the journal Nature Communications.
MUSA is a lightweight and compact device that can be mounted to a surgical table, and can be integrated into an operating theatre without the need for theatre reconfiguration. The robot can operate with five times the accuracy of the human hand. It does so by converting the surgeon's large hand movements into the small, precise movement of surgical instruments while filtering the small inherent tremors of the human hand.
One treatment that could benefit from robot-assisted microsurgery is the procedure to reduce lymphedema (fluid retention) in the arms. Lymphedema often occurs after breast cancer treatment if the lymph nodes in the armpit are removed or irradiated. For this reason, women that develop lymphedema after breast cancer treatment often need to wear compressive arm stockings for the remainder of their lives. In some cases, lymphedema can be treated with a lymphaticovenous anastomosis (LVA) procedure where the lymphatic vessels are linked to very small blood vessels to drain excess lymph fluid. Both vessel types have diameters that meet the criteria for supermicrosurgery.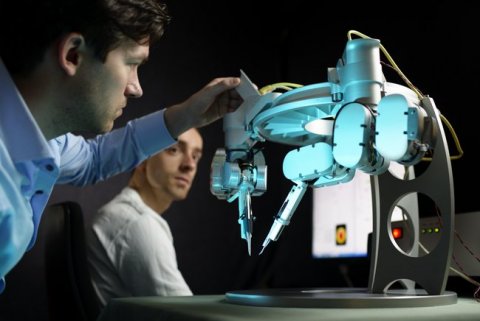 To assess the viability of using MUSA in robot-assisted supermicrosurgery, MUMC+ researchers compared robot-assisted and manual LVA procedures for the treatment of breast cancer-related lymphedema. Twenty female patients underwent either robot-assisted or manual LVA with criteria for evaluation of procedures including the quality and duration of the operation, as well as a lymphedema questionnaire score and a lymphedema index for the affected arm that were both scored by patients one and three months after the procedure. Results from the study confirm that it is safe and feasible to connect lymphatic vessels to blood vessels in the treatment of lymphedema using the MUSA robot. Large follow-up studies in several centers are needed to further investigate the differences between operations with and without robot support.
This pilot study is a step in the further development of surgical robots for supermicrosurgical procedures, which is good news for patients with lymphedema. In time, more patients can be treated using robot-assisted surgery and thus these patients will no longer have to wear compressive stockings after LVA procedures.
Source: Eindhoven University of Technology