Siemens Healthcare
New MAGNETOM Amira can save up to €20,000 in operational costs
Siemens Healthcare's new 1.5-tesla scanner MAGNETOM Amira enables clinical excellence with comparatively low costs per scan. MAGNETOM Amira offers the same technologies that are available on the Siemens flagship MRI systems. The new MRI system stands out on account of its lower operating costs.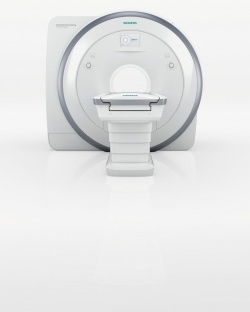 Overall operating costs play a key role in using a scanner economically. The "Eco-Power" technology of MAGNETOM Amira1 monitors and controls the state of the helium that is responsible for cooling the magnet. Activated during standby mode, it monitors the liquefaction cycle and manages the cooling and helium re-liquefaction process more efficiently. This means that a power saving of up to thirty percent can be achieved in standby mode compared to when the feature is not activated. Combined with the overall low power consumption and Zero Helium Boil-off technology – which prevents helium from evaporating – up to €20,000 can be saved annually with MAGNETOM Amira compared to MAGNETOM Symphony generation MRI systems2. MAGNETOM Amira meets the requirements of radiology practices, small and medium-sized hospitals and larger facilities that are looking for a system to complement their existing devices.
MAGNETOM Amira is designed to make it easier for customers to operate their MRI systems efficiently. Many examinations can be scheduled for ten minutes, enabling a large number of patients to undergo scans in routine applications. DotGO, the latest generation of MRI examination software, simplifies protocol management and offers the right operating sequence for each individual scan to suit requirements. This helps increase the consistency, reproducibility and efficiency of examinations.
To enable high diagnostic reliability and patient comfort, MAGNETOM Amira is equipped with Siemens' latest applications and syngo MR E11 software architecture. The new technology FREEZEit enables free-breathing body examinations, while gaining diagnostic confidence. Part of the software platform is the "Quiet Suite" technology that helps minimize the loud noises that can be generated during an MRI examination. Optimized gradient switching reduces the sound pressure by up to 97 percent3 during complete neurological and orthopedic examinations, with no compromise in image quality and no prolonged examination times.
1 The product mentioned herein is not commercially available. Due to regulatory reasons its future availability cannot be guaranteed.
2 As an example, a comparison based on typical cost structures in Japan shows potential savings in operating costs up to 20,000 euros; savings depend on individual use of the device and other factors and may vary.
3 Compared to same device without "Quiet Suite" technology. Supporting data on file. Results may vary.
Link: MAGNETOM Amira product page
Link brochure: MAGNETOM Amira product brochure
More on the subject:
More on companies: